HCU Abroad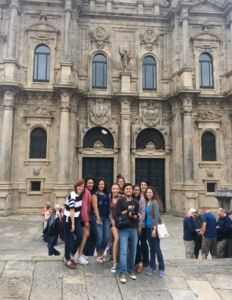 Why Serve and Study Abroad?
The purpose of HCU Abroad is to facilitate teaching, learning, and service opportunities in international settings.  Individuals who serve and study abroad, immersed within the customs and language of the culture, gain unique opportunities for academic, spiritual and professional excellence beyond the bounds of a traditional classroom setting. Studying abroad is an empowering, transformational and fun opportunity for students. It empowers students by pushing them to discover untapped resourcefulness within themselves as they learn how to navigate new and different environments. It is transformational as students gain a new perspective as they experience the world and see how other cultures live. It is also a fun opportunity as students make new friends, try new foods, see history books come to life, and create memories that will last a lifetime.
How to Study and Serve Abroad?
The Office of the Provost facilitates service abroad and study abroad opportunities.  Individuals may enroll through one of the courses for credit, through an internship, or through one of the service opportunities via HCU Spiritual Life and the Baptist Student Ministry.
Opportunities through study abroad for which college credit may be awarded, including, but not limited to the following:  HCU customized study abroad courses, customized credit courses through transfer partnerships with universities abroad and transfer courses through HCU's partnership with the Veritas Abroad, Living and Learning International, and the Council for Christian Colleges and Universities (CCCU) BestSemester.
Department Info
Service Abroad and Study Abroad functions through the Office of the Provost and is a collaborative endeavor across the colleges and service units of the university. HCU Service Abroad and Study Abroad functions in accordance with the University Mission and central confession that "Jesus Christ is Lord." HCU Service Abroad and Study Abroad supports each of the ten pillars and emphasizes Pillar IX: Cultivate a Strong Global Focus.
The HCU faculty serve as sponsors for approved customized study abroad courses. Eligible students may then register for these opportunities and meet with the faculty sponsor to obtain the course syllabi, travel itinerary, and additional course and travel details.  Customized study abroad courses may be taught by HCU faculty or through transfer agreements with universities outside of the United States for which earned transfer credit is received by HCU for students completing customized study abroad courses. To find what faculty-led courses are offered by HCU, add the filter "Faculty/Teacher Led" under Program Type filter in our new HCU Abroad Portal