The Honors College
The Honors College is an educational community for undergraduate students at HCU that aims to educate students in wisdom and character. Built on the scholarly activities of reading, writing, questioning, thinking and discussing, the program provides an experience perfect for students who want to challenge themselves academically.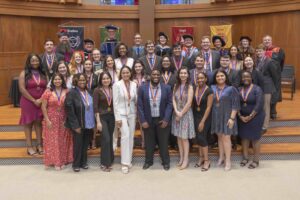 (Take a look at the reading list for our students.) Because of their commitment to excellence, our scholars get the most possible out of their college education, and, of course, graduate with a higher level of distinction.
Within the context of Christian faith, students are inspired to develop their moral and intellectual lives. As W. E. B. DuBois wrote in 1903, "The true college will ever have one goal—not to earn meat, but to know the end and aim of that life which meat nourishes." And as Winston Churchill wrote years later, "The first duty of a university is to teach wisdom, not a trade; character, not technicalities."
This is an excellent way for undergraduates to discover the aim of life and to build the foundation of wisdom and character necessary to achieve it.
This program is not a major, but rather an enhanced way for students to satisfy the liberal arts core requirements of any degree offered at HCU. Students in any major can participate and transfer students are welcome. Interested students can apply online or reach out directly with any questions.
---