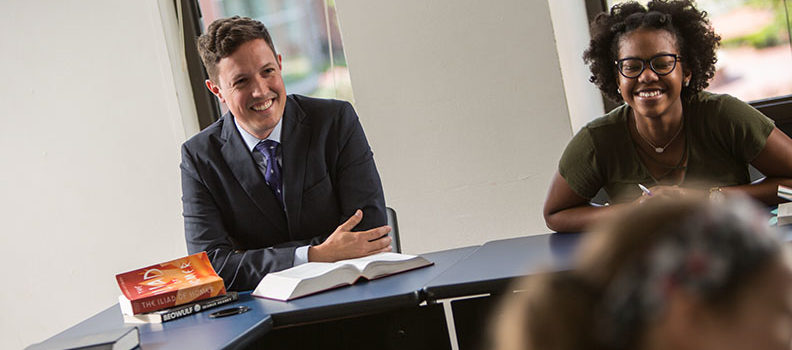 The Honors College Curriculum
The Honors College is a three-year program that provides a unique general-education core curriculum in the liberal arts and the social and natural sciences for exceptional undergraduates. It fosters curiosity and creativity; challenges students to grow intellectually, socially, and spiritually; and inspires lifelong learning.
Students in the Honors College examine great works of Western civilization and hone their reading, writing and critical-thinking skills through spirited discussions with their peers and distinguished faculty. Courses are taught by a team of professors so that students learn from various perspectives and recognize that all knowledge is interconnected.
Honors College classes are taught in both lecture and seminar settings and are structured to include co-curricular activities including symposia, roundtables, undergraduate research, service learning projects, and broad exposure to cultural and learning opportunities in Houston and beyond.
In order to foster a collegial atmosphere, Honors College classes are small. Instructors utilize a variety of teaching strategies with particular attention given to the Socratic method. Students have the opportunity to get to know each other and their professors, and everyone has an opportunity to be heard. Participation in the Honors College at Houston Christian University provides students with a superior academic experience that engenders a life of inquiry and integrity.
The Honors College Reading List
The Three Year Honors College Plan
The Four Year Honors College Engineering Plan
Joint Admission to the School of Nursing