College of Education and Behavioral Sciences
Mission
We prepare students to be effective citizens and professional educators, administrators, counselors, and researchers who reflect Christ in their work and service.
To accomplish our mission, our small classes with a positive climate for learning focus on the following:
Training: courses and mentoring that provide a solid pedagogical grounding in your discipline
Experience: essential learning experiences that develop knowledge, skills and wisdom
Calling: an understanding of your Christian mission and calling to influence individuals and the larger society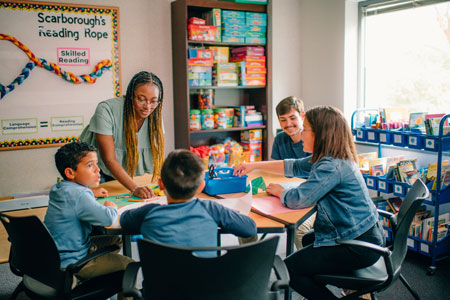 Personal Development
Our faculty help to develop your God-given gifts through a Christ-centered curriculum will that will impact you as a future professional and the people whom you will serve.
Interactive Learning
We use interactive field-based training, technology integration, and a student-centered, constructivist approach to teaching. Diverse learning experiences include classroom, computer laboratory, field placement, and co-curricular activities.
On-the-Job Experience
Gain on-the-job experience within your chosen profession in the local community. You will actively engage with children in classrooms, clients in therapeutic settings, and decision-makers in academic and organizational settings.
Examination Ready
Our students have high pass rates on teacher certifications and psychology licensure exams. Graduates are highly sought by employers who value their moral and professional caliber.