Welcome to Husky Pups!
The Office of Alumni Relations is excited to announce the creation of the Husky Pups club! Husky Pups is a special club just for your children and grandchildren. Your kids will grow up surrounded by the same Husky community and spirit you grew to love as a student or University friend. Give your favorite future Husky Pup an experience of a lifetime with fun events, traditions, and benefits for ages 0-12!
Only $30 to register, $50 for 2, and $75 for 3!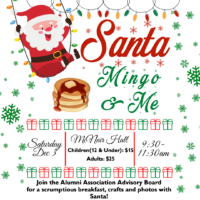 Join the HCU Alumni Association for a delicious breakfast, fun crafts, and the opportunity to meet and take a photo with Santa! Check your email for a special promo code for this event!