Student Tailgating and Ticketing
It's a great time to be a student at HCU! Husky Football will bring new activities and traditions with it. Check back here for more information about tailgating, ticketing, and all things football for students!
Tailgating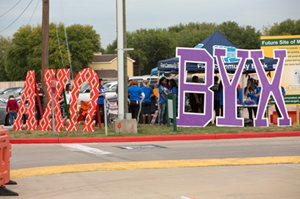 Student Organizations and individuals wanting to tailgate are only allowed to tailgate on the grassy areas on campus. No parking lots are allowed to be used for tailgating.
All tailgating areas must be cleaned up entirely of trash before leaving and placed in the proper receptacles. If litter is present at any tailgating site, the participants will be asked to clean up their area immediately, asked to leave the area, or receive a fine from the University Police Department.
Parking for students on Game Days is in Lots 7, 8, and 9 (near dorms and the Baugh). Lot 6 will primarily be used for guest football parking.
HCU students and their guests are reminded that they must continue to follow all HCU student handbook policies.  Any violation of these policies may result in the immediate removal from and/or termination of tailgating privileges, criminal prosecution (i.e. citation or arrest), and/or disciplinary action through the HCU Student Life and University Police Offices.

Ticketing
Free admission to all Home games is available for all HCU students with a current HCU student ID through the designated student entrance.
If a student is bringing guests to the game, they may purchase General Admission tickets from the ticketing office. Please call (281) 649-3143 for single game tickets.
Student Seating will be in section Upper 106, which is titled the Belin section.
Student Organizations are invited to bring wooden letters or signs to lay out at the football field for promotion.