By: Jason Brown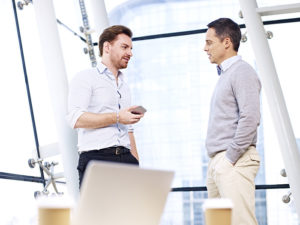 Businesses regularly apply preventative maintenance strategies and programs to their machines, vehicles and other capital equipment, but what about to their most valuable asset…their employees? Marketplace Chaplains, America's largest and original workplace chaplaincy organization, has found that business savvy leaders are seeing that satisfied employees are really the company's only asset which truly determines the future trajectory of their business.
"I can't say enough for what Marketplace Chaplains has been to our company and to our most important asset—our employees," said Goran Haag, president and owner of Champion Fiberglass in Houston, Texas. "When we have someone in the hospital, they are the first person there. They are here to care for and to comfort our people."
So how satisfied are employees today? And what is the state of the workforce today in a workplace which in recent years expects more from fewer employees, is in many cases "on" through media and technology 24/7/365, in a hectic culture where values, morals and structures are constantly evolving and where tension and discord have risen in everything from sports to politics? Episodes of violence and the fear it might happen "to me" seem to be an everyday occurrence in the news.
Research shows people are more disconnected than ever before as our nuclear family units are separated, often living long distances from extended family and friends, and our growing reliance on social technology rather than face-to-face interaction is thought to be making us feel more isolated. It means people feel less connected to others and our relationships are becoming more superficial and less rewarding. We are social animals and need to feel that we "belong" to others and to feel connected to one another. Social pain is as real a sensation for us as physical pain; researchers have shown that loneliness and rejection activates the same parts of the brain as physical pain.
Recent studies also show growing commute times are taking a toll on job satisfaction as well as increasing anxiety and feelings of isolation.  Average commute times are on the rise in the US, increasing by 20% since 1980. Add to that the breakdown of the family with the high rate of divorce, single family parenting, both parents working to make ends meet, and the complications of blended families; it's easy to see why today's employees are stressed out! And they bring all that stress and negative emotion with them to work.
Personal Issues People Bring to Work:
Marriage/Divorce
Family/Children
Caring for Aging Relatives
Health issues/Illness
Death/Grief management
Education
Financial
Substance Abuse
Addiction/Recovery Issues
Morality/Ethics
Job Related Issues
Stress/Anxiety
Discouragement
Faith Issues
Depression
Costly Consequences:
Dissatisfied workforce
Absenteeism ($789 per EE per year)
Low Morale
Safety Compromises
Turnover (2-4 x salary per incident)
Low Productivity
Theft/Fraud ($4500 per EE)
Personal Conflicts (Managers spend 9 weeks per year handling)
Unhappiness
Disengagement (Loss of $10,000 in profit annually per disengaged EE)
Presenteeism (the practice of coming to work despite illness, injury, anxiety, etc., resulting in reduced productivity and costing businesses ten times more than absenteeism)
Although most workers spend 60% or more of their waking hours in the work environment, spending more time with co-workers than family, employees are reluctant to ask company officials for help with personal problems; and if they do, management does not have the time or training to provide effective solutions.
Recent employee surveys show that 70% are not affiliated with traditional support organizations and do not have a relationship with a pastor, priest or rabbi; 60% have trouble focusing on task, 44% say the job is more stressful, and 46% of workers that leave a company voluntarily do so because they "don't feel valued." Gallup's 2017 "State of the American Workplace" in-depth employee survey found that only 33% of American workers are engaged at work, meaning they love their jobs and try to do their best every day.  "At the other end, 16% of employees are actively disengaged—they are miserable in the workplace and destroy what the most engaged employees build," wrote Jim Clifton, Gallup Chairman/CEO.  "The remaining 51% of employees are not engaged—they're just there. These figures indicate an American leadership philosophy that simply doesn't work anymore. One also wonders if the country's declining productivity numbers point to a need for major workplace disruption."
Disengaged employees are a trend being echoed nationwide by company leaders who have turned to Marketplace Chaplains for help. Marketplace Chaplains provides a personalized and proactive employee care service using Chaplain Care Teams comprised of male, female and ethnically diverse chaplains. These chaplains make regularly scheduled worksite visits to develop relationships of trust and confidence, and are available 24/7, nationwide delivering help, hope, care and compassion. Employees choose if, when, where, and what they want to talk about, and all conversations with a chaplain are strictly confidential. Marketplace Chaplains helps thousands of employees handle everyday life issues which can derail an employee from being their best at work.
"In our company, we have a wide background of employees with various and diverse family issues and problems," said EME Chairman Randy Turnbow from California. "Having Marketplace Chaplains in the building walking the factory floors is a great benefit to us."
For centuries, Congress and the Military have had Chaplains, and other organizations such as Police and Fire Departments, Sports teams, Senior Living Communities, and Prisons have a long history of Chaplain care. And now many visionary CEOs and company leaders are seeing the value of caring for their only asset which will last…their employees and their family members.
Anticipated Benefits of Chaplain Care Teams:
Improves Attitudes, Teamwork, Morale and Satisfaction
Increases Loyalty, People feel Cared for and Valued
Increased Commitment to Goals and Objectives
Reduces Employee Conflicts
Reduces Stress
Improves Workplace Safety
Undergirds Corporate Culture
Decreases Absenteeism and Presenteeism
Increases Productivity
Reduces High Turnover
Increases Employee Engagement
Develops Spiritual/Emotional Wellness
Marketplace Chaplains currently serves more than 711,000 client company employees and their family members in 1,280 cities and 4 countries, making over 3,200 worksite visits weekly.
What Marketplace Leaders and their Employees are saying:
"The Biltmore had grown from a small family operation to over 1,800 employees. We began asking ourselves, 'How do we keep the smallness, and how do we assure that someone notices if our people are having a bad day?' The EAP, still in place, was excellent, but people weren't calling. That's when we brought in Marketplace Chaplains." Ann Ashley, Executive VP Human Resources, The Biltmore Corporation, Asheville, NC
"We love our chaplains. They are here for us at all the highs and lows in our lives. I had a chaplain who left her family at the dinner table to go to the hospital and meet with a family that had just lost a child. Our chaplains have performed celebrations and funerals for our employees and as an HR professional, it is comforting to know that when I have an employee in the middle of an illness or tragedy, whether themselves or a family member, our Chaplain Care Team will assist them however they are needed. Even if we have a family member in another city, our chaplains will contact a chaplain in that city and send them over to be with the family. I had one employee whose mother was dying in hospice in another city and when she got the call to 'come right away', while she was making travel arrangements, I was on the phone with the chaplains and they sent someone to sit with the mother while her daughter was in route. How cool is that?" Janis K. Parker, Human Resources Manager, Hilcorp Energy Company
"Marketplace Chaplains have become a vital part of the Mt. Sterling Dot Foods family over the last 18 months. We highly value the great support the team provides to the staff and management of Dot Foods," Lori Cherry, Corporate Benefits Manager for Dot Foods.
"Our Marketplace Chaplains have been able to take us that extra mile with employees that truly makes their situation and our ability to serve them one that goes from average to where KeHE is truly this unique company," said Rusty Bland, Vice President, Talent and Total Rewards at KeHE Distributors, based in Naperville, Illinois, and with locations all over the United States. "We have some very strong values and Marketplace Chaplains has been one of those ways that we've been able to live out our values as we engage with employees."
Regal Marine, one of the nation's largest privately-owned boat building companies, annually asks its 600 employees to grade and evaluate all benefits the company offers. In the most recent survey, The Employee Care Program provided by Marketplace Chaplains was selected as the #1 benefit. "The Chaplains' program received the highest rating (over health insurance, retirement funding, educational scholarships and 11 other benefits)," said Mel Moses, Regal Marine Marketing Manager. "This 'Highest Rating' speaks loudly (from our employees)."
An employee of David Weekley Homes (Fortune's Top 100 Companies to Work nine times with 1,658 employees) stated: "Just the existence of the Chaplain Care Team at David Weekley Homes helps to set the tone for the level of integrity and morals expected from its people. It was one of the items that really ATTRACTED me to David Weekley Homes because it showed me that he had a vested interest in my overall well-being, not just in what I could do for the company."
_____________________________________________________
Why not have a personalized and proactive Chaplain Care Team at your company?
It is the easiest and most effective way to put your Faith at Work to work!
www.MChapUSA.com
---
Jason Brown is Chief Marketing Officer for Marketplace Chaplains. Jason came to Marketplace Chaplains in 2002 with 20 years of sales and marketing experience that includes Procter & Gamble, National Sales Manager for Wrangler Outerwear, and Computer Resale Technologies. Jason was also a professional athlete and won the 1991 World Champion Saddle Bronc Rider title, while also serving as the rodeo's National Spokesman Coordinator.