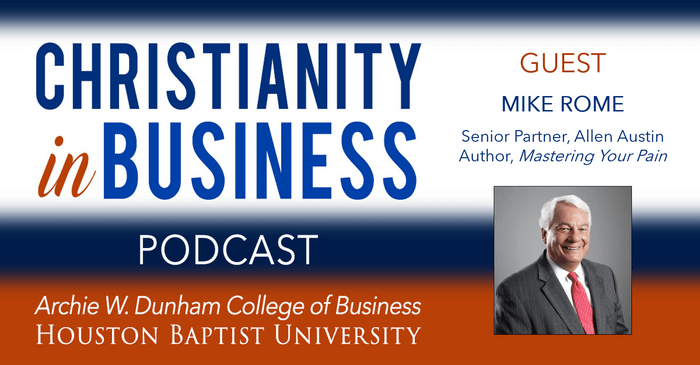 On this episode, Mike Rome shares the mindset necessary to perform effectively at work despite physical pain and discomfort.
Questions and lessons explored in this episode:
How do most people handle their chronic physical pain at work?  
How should people communicate with others about the debilitating pain they're dealing with? 
How can we help our co-workers who are in an ongoing battle with physical pain?   
About the guest:
Mike is Senior Partner and co-leads the Board, CEO, and Private Equity practices at Allen Austin, a consulting and retained search and leadership advisory firm. He helped to co-found the Center for Christianity in Business at Houston Christian University.  
Prior to joining Allen Austin, he was CEO and Principal at Chilton Capital Management and CEO at Texan Capital. He is also a managing partner in a private-equity firm, Memorial Capital Partners.  
Mike graduated from the University of Kansas with a Bachelor of Liberal Arts degree, and was a two sport letterman in Football and Baseball. He furthered his studies in Portfolio Management at the University of Virginia Darden School of Business, and in Behavioral Finance at Harvard University.  
He is also the author of the new book, Mastering Your Pain: 18 Strategies to Perform Effectively Despite Your Physical Pain.
Links mentioned in this episode: