Morris Family Center for Law & Liberty
Educating and Inspiring Future Generations
What would it be like to study our nation's founding documents while sitting in Independence Hall – birthplace of the Declaration of Independence and Constitution? The Morris Family Center for Law & Liberty at HCU is a unique opportunity to do just that! Made possible through a generous gift by University founder Stewart Morris, his family, and other supporters of the University, this exciting initiative of HCU's College of Arts and Humanities will inspire students for generations to come to learn more about our nation's history and founding principles. The Center's home is modeled after one of our nation's most iconic buildings – Independence Hall in Philadelphia.
Our Mission
The Center's mission is to promote among our students and fellow Texans an appreciation and understanding of our nation's history and founding principles. We want our students and those who visit this iconic building to understand that no matter what you look like, where you are from, or who your parents are, that the United States provides more opportunity for personal growth and advancement than any other nation in the world because of its foundation in the rule of law, its commitment to individual liberty, and the benefits of a free market system. Our courses in history, political science, and law are designed to ask tough questions and provoke meaningful conversations about what kind of people we want to be, what kind of nation we want to live in, and how best to maintain our commitment to liberty and justice for all.
Extracurriculars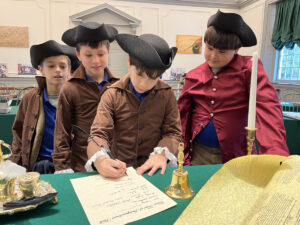 The Center offers classes and extracurricular programs related to our mission such as faculty lectures, book groups, current event roundtables, guest speakers, and teacher workshops. We host an educational field-trip experience for 5th graders focusing on the American founding that immerses students in the historic events of Independence Hall. We have also partnered with area schools to bring older or younger students to the building for unique educational opportunities directed by their classroom teacher, from reading our nation's founding documents to analyzing 18th century poetry.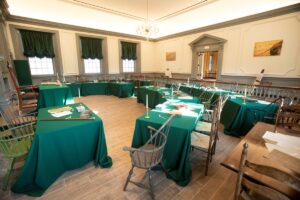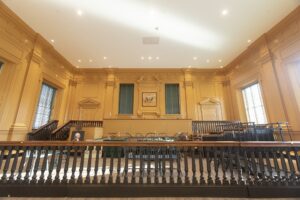 Serving Houston's Local Educational Community
Independence Hall at HCU also serves the greater Houston area. The building is available as a conference center for civics groups and the business community. The Presidential Gallery on the second floor is equipped with excellent audio-visual equipment, a full kitchen, and can be arranged for conferences, meals, workshops, or lectures.
Support the Center
Donations can be made online at  HC.edu/Give by navigating to "Additional Giving Opportunities."