DR. BARBARA J. ELLIOT,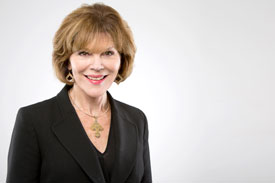 assistant professor of Liberal Arts in the Honors College, presented on June 10 at the Summer Institute for Educators: Poets and Public Men: The Western Tradition of Liberty in Literature and Political Life. Her presentation, "Beauty for Truth's Sake," considered the Pythagorean roots of the Western understanding of beauty. She also led a symposium, "What Socrates Learned About Love from a Woman," which considered a reading from Plato's Republic. This program for educators was sponsored by the Free Enterprise Institute.
On June 18, Dr. Elliott was inducted into the Women's Hall of Fame by Kingdom View at the Hobby Center. She has joined a group of professional women collaborating to launch Naomi's House, a transitional living center for women leaving prison that assists them in acquiring entrepreneurial skills, while strengthening their faith in Christ.