HCU Apologetics Day 2023
God and Ethics
Saturday, March 4, 2023 at Sugar Land Baptist Church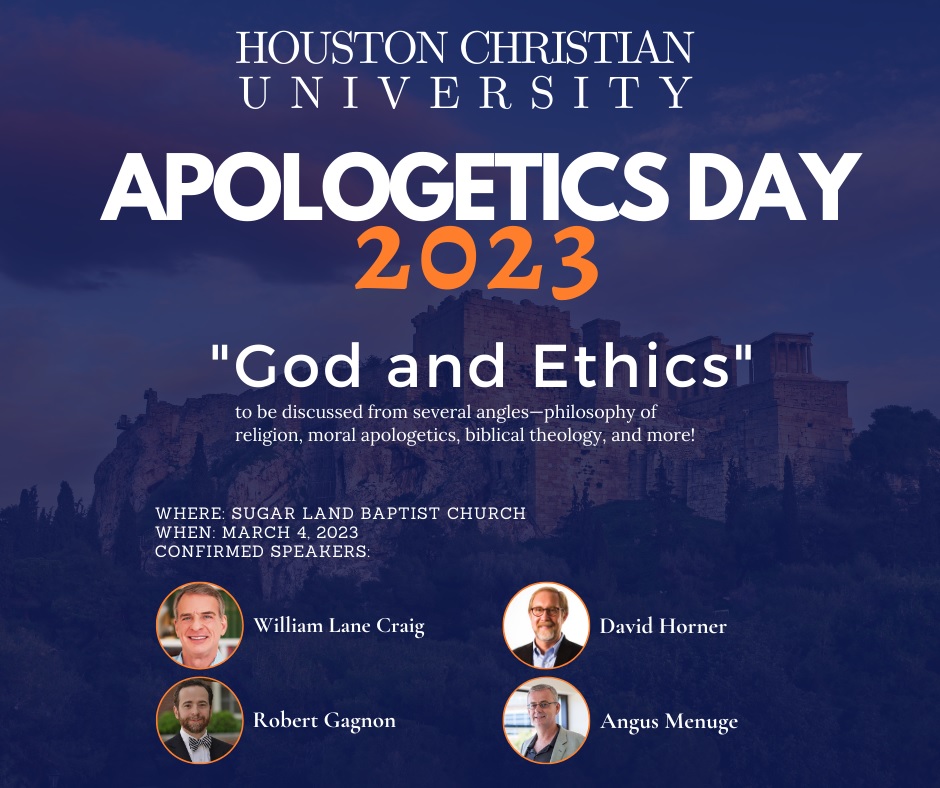 The theme of Apologetics Day 2023 at HCU is God and Ethics, to be discussed from several angles—philosophy of religion, moral apologetics, biblical theology, and more! To be held at Sugarland Baptist Church on March 4, 2023, it will be a memorable day. Confirmed speakers include Angus Menuge, David Horner, Robert Gagnon, and William Lane Craig. Other possible speakers include Matthew Flannagan, Paul Copan, Steve Parrish, and Robert Garcia. You don't want to miss it!
Tentative Schedule
HCU MAA | 9:00-9:10    Mary Jo Sharp
Talk #1 | 9:10-10:10      William Lane Craig
Talk #2 | 10:25-11:25    Paul Copan
Lunch | 11:30-12:55
Afternoon Emcee:          Nancy Pearcey
Talk #3a | 1:00-2:00      Robert Gagnon
Talk #3b | 1:00-2:00      Matthew Flannagan
Talk #4a | 2:15-3:15      Robert Garcia
Talk #4b | 2:15-3:15      Scott Smith
Talk #5a | 3:30-4:30      David Horner
Talk #5b | 3:30-4:30      Angus Menuge
Prices:
$30- Adults Early Bird
$40- Adults after March 1
$50- Adults Day-of Conference
$10- Students
$20- Students Day-of-Conference
Location
Sugar Land Baptist Church
16755 Southwest Fwy, Sugar Land, TX 77479
Register for Apologetics Day 2023
For questions, please contact apologetics@hbu.edu or 281-649-3383.