A.O. Collins Lecture
Featuring Prof. Edith Humphrey
Thursday, October 13 | 7:00 PM | Belin Chapel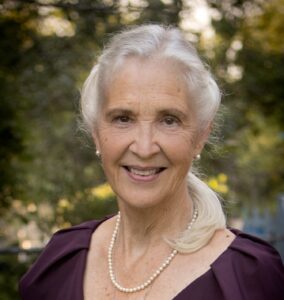 Mediation and the Immediate God:  Invitation to a Conversation
In this lecture and subsequent discussion, Edith M. Humphrey invites the community to engage with a preview of her forthcoming book (2023) Mediation and the Immediate God: Scriptures, the Church, and Knowing God.  We will entertain a long-debated question:  how can we say both that God has a direct relationship with each Christian, and that He uses others in order to bring us to health and glory?  We will explore the ubiquity of mediation in the Christian life, and in life in general, as well as the paradox of mediation held alongside the Christian confidence that each of us can be directly 'taught by God' because of the gift of the Holy Spirit.  When we frame mediation in terms the nature of the Church, rather than in the context of a soteriological debate, Christians of different formations can better understand each other.
Edith M. Humphrey is the William F. Orr Professor Emerita of New Testament at Pittsburgh Theological Seminary.  A wife, mother of three, and grandmother to (almost) 22 grandchildren, she is also an Orthodox Christian. She is the author of articles on topics as diverse as the rhetorical analysis of vision reports, C. S. Lewis, worship, theological anthropology, and justification in St. John Chrysostom and Calvin.  She has published nine books (with Russian translations of two titles), including Beyond the White Fence (novel for ages 8-15, 2021), The Ladies and the Cities (1995; 2018), Further Up and Further In: Orthodox Conversations with C. S. Lewis on the Bible and Theology (2017), and Scripture and Tradition: What the Bible Really Says (2013).  Some of these will be available for purchase at the lecture.
---
About the A. O. Collins Lectures
The A. O. Collins lectures began in 1993 with the goal of bringing recognized scholars to address the university community in current trends in theology, religious studies and philosophy. The series is named for Dr. A. O. Collins who chaired HCU's Department of Christianity and Philosophy until his retirement in 1990. Over the last two decades, due to the generosity of former students and friends of the university, top scholars from around the world have lectured on our campus on a wide range of topics on religion and philosophy.
Our past lecturers have included:
Dr. James H. Charlesworth, Princeton Theological Seminary
Dr. Walter Brueggemann, Columbia Theological Seminary
Dr. Charles Talbert, Baylor University
Dr. Ellen T. Charry, Princeton Theological Seminary
Dr. Luke Timothy Johnson, Emory University
Dr. Alan Segal, Barnard College, Columbia University
Dr. Samuel Proctor, Duke University
Dr. John Howard Yoder, University of Notre Dame
Dr. James W. McClendon, Jr., Fuller Theological Seminary
Dr. Michael J. Gorman, St. Mary's Seminary
Dr. Larry Hurtado, University of Edinburgh
Dr. Emanuel Tov, Hebrew University
Dr. Craig Evans, Acadia Divinity College
Dr. Richard Bauckham, St. Andrews University
Mark Lanier, Lanier Theological Library
Dr. John J. Collins, Yale Divinity School
Dr. Dale Alison, Princeton Theological Seminary
Dr. David Aune, University of Notre Dame
Dr. Matthew Levering, Mundelein Seminary
Dr. David M. Moffitt, University of St Andrews
Dr. Jack Levison, Southern Methodist University