HCU Embark
July 15 – 19, 2024
HCU Embark strives to equip college-bound students to defend their faith and grow in their personal, spiritual, and social lives. The program is open to all college-bound students, regardless of institution.
Why Attend Embark?
College freshmen today have their beliefs tested more intensely than ever before. Many do not remain faithful. The Bible teaches that Christians will face many trials and should be able to give reasons for the faith they profess. Join us and acquire the tools to build Christian community on your campus and answer objections to your faith – while exploring the exciting city of Houston.
See some of our 2023 highlights!
Registration and Cost
Registration Opens Wednesday, March 20, 2024
Cost:  $175 ($400 value)

March 20 – April 30, 2023:  $100 (Early-Bird Pricing)
May 1 – 31, 2023:  $150
Beginning June 1, 2023:  $175

Partial and full scholarships to the program available below
Dates: July 15 – 19, 2024
See the refund schedule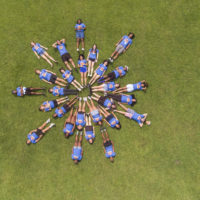 If awarded, this scholarship is applied towards the cost of attending HCU Embark.
Program Elements
Dining & Housing
4 nights in HCU residence halls
Meals in HCU Baugh Center
Itinerary
Daily small groups with HCU upperclassmen mentors
Sessions compiled of Christian Worldview and College Essentials sessions
3 off-campus excursions
Sample Topics
Christian Worldview
Theistic Arguments
Exclusivity of the Gospel
Problem of Evil
Faith and Science
Faith and Film
Culture and Controversy
Archaeology and the Bible
College Essentials
Financial Literacy
Mental Health
Conflict Management
Calling and Vocation