Go Deeper
Fall 2023

C.S. Lewis was the greatest apologist of the 20th century, in terms of the sheer number of people who were either converted or brought through a crisis of faith by his work. This purpose of this course is not merely historical – to learn what this great thinker said – but to learn how to creatively apply his apologetics strategies in our own day. The goal is not to learn about apologetics but how to do apologetics.
A unique aspect of this course is that students will construct logic maps of Lewis's key arguments. Students typically find these maps challenging, but afterward they often say, "I saw things in Lewis that I never saw before." We will end by reading resources that illustrate how to build on, expand, deepen, and advance Lewis's most important themes.
Register Now for Philosophy of C.S. Lewis$280 Early Bird, $300 after the semester begins
---

Join Dr. William Lane Craig October 23-27 in the afternoons as he takes you through some of the top arguments for the existence of God. Anyone in the world can join us through Zoom or in person to learn from one of the world's leading apologists. You will learn about some of key arguments for the existence of God, like cosmological arguments and the design argument. Non-students are welcome to join us at an affordable price.
Register Now for Theistic Arguments$100 Early Bird, $120 after the semester begins
---

The New Testament tells us about the life of Jesus and the spread of Early Christianity over the course of the first century AD. But what happened next? Who led the church after the death of the apostles? Who were the legitimate continuators of the apostles' teachings about Jesus? What sources tell us about this period? These sources are the focus of CHRI 5380 The Early Patristic Period. We will read the Apostolic Fathers, the early Apologists, early Christian Apocrypha, and more.
Register Now for Early Patristic Period$280 Early Bird, $300 after the semester begins
---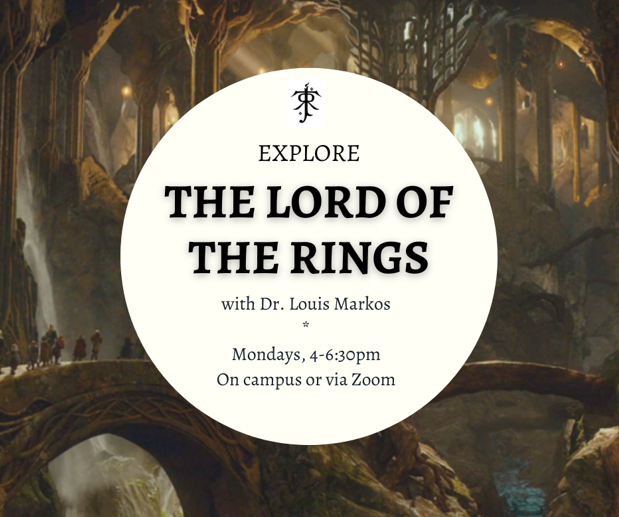 Join us as we journey with Hobbits, Men, Elves, and Dwarves, studying as we go the challenges of the Road, the true nature of virtue and vice, the lure of magic, and the temptation to power. In addition to discussing The Lord of the Rings, we will consider the influence of Beowulf and map out the full shape of Middle-earth as laid out in The Hobbit and The Silmarillion.
Register Now for Explore The Lord of the Rings$280 Early Bird, $300 after the semester begins
---
Go Deeper classes are intended to virtual surveyors, though there may be some space for in-person classroom attendance. Speak with the instructor to see if in-person attendance is possible.