A 3.5GPA is difficult to achieve. After rising early for classes, studying late into the nights, writing papers, visiting professors, searching out tutors in the Academic Success Center, and doing anything and everything they could to succeed, our Dean's List students were recognized. This past Saturday, February 18, the Academic Success Center honored more than 400 Houston Baptist University Dean's List students from the Spring 2016 and Fall 2016 semesters in Dunham Theater on the HBU campus. To make the Dean's List, a student must be enrolled full-time and achieve a 3.5 or higher grade point average in a semester. Nearly 1,000 family members and friends attended to celebrate their students' success!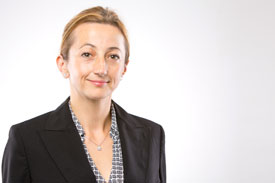 Dr. Agnieszka Czopik was selected by student nomination to be honored as the Dean's List: Faculty Honoree. The student who nominated Dr. Czopik, Rick Sykes, said of her, "Prior to getting the opportunity to become Dr. Czopik's teacher's assistant, I did not have much confidence in my abilities as a student. Dr. Czopik helped me realize the potential that I have;  her continual encouragement pushed me to change career paths and pursue my lifelong dream of becoming a doctor." Dr. Czopik is an assistant professor of biology in the College of Science and Mathematics and started her career at HBU in the fall of 2015.
Margaret Humphreys, director of the Academic Success Center, said, "It was great to see students being honored for their achievements and celebrate with their families. We have students' parents who flew and drove in for this event. It was an honor for me to be part of it."
The Academic Success Center is available to help students meet their academic goals. The Center is on the first floor of Moody Library and provides many services including tutoring, weekly study groups, test reviews, Academic Coaching, and Supplemental Instruction. Learn more about the Academic Success Center at HBU here.