There were no new movies that seemed worth my time on December 2, so I decided to catch up with "The Man Who Invented Christmas." I used to teach a course on Charles Dickens, so I spotted numerous fissures and chasms in the plot of the film. Some of those chasms would swallow the largest Christmas sleigh ever sold; they certainly brought out my inner Grinch. The film wasn't all humbug, but it was certainly unsettling.
The major reason I wanted to see the film was the appearance of Christopher Plummer as the seriously maligned Ebenezer Scrooge. Plummer is excellent, but he appears in only a few scenes. The only other cast member of note was Jonathan Pryce as John Dickens, the ne'er-do-well failure of a father. A new actor, to me, was Daniel Stevens as Charles Dickens. I am in no rush to see him again.
One of the most irritating scenes in the film involves misstatements about the success or failure of Dickens's early works. The film implies that every title after "Oliver Twist" was a failure; that overlooks such major hits as "Nicholas Nickleby" and "The Old Curiosity Shop." Sales for "Barnaby Rudge" and "Martin Chuzzlewit" were more than respectable, even if less spectacular than for the earlier works.
Another inaccuracy was the portrayal of Mrs. Dickens as a winsome Victorian beauty; by the time the story takes place, she was very obese, thanks to frequent childbirth, and unable to understand her husband. He was no angel, I hasten to add. I also disagreed with the portrayal of Dickens's parents as nice people. They were not; in fact, his mother may have been more responsible for the young Charles being placed in that notorious blacking factor than the useless father.
I still have to admit that the film had some good qualities, particularly Christopher Plummer. The film is not a classic, but will probably become of those inevitable "Christmas specials" on some television network in the near future.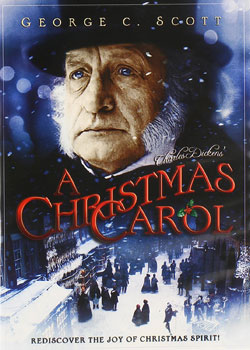 If you really want to see an accurate adaptation of "A Christmas Carol," let me recommend the 1984 version starring George C. Scott.  I know many people prefer the Alastair Sim version from 1951, but the Scott version comes closer to what Dickens had in mind.
God Bless Us, Everyone.