Hurricane Barry may have decided to bypass the Houston area, but I still declined the chance to be out and about on the July 13 weekend. There was nothing new at the megaplex that piqued my interest, so I stayed home and read. Yes, I do have some books I haven't read yet; somewhere in my files is a document stating that the Grim Reaper will stay away from my door until I have read everything in the house.
A few years ago I began rereading, for the fourth time, the entire canon of Rex Stout's Nero Wolfe mysteries. I have made it to the novels published in the 1960s, so the end is near. I was slow in forming a taste for Stout's work, but I now savor his mastery of characterization, as well as the intricate puzzles. Nero Wolfe, Archie Goodwin, and the long-suffering Inspector Cranmer, are among the immortals of detective fiction. Nero won my heart when, in 1960, he shredded and burned, page by page, his copy of "Webster's Third International Dictionary of the English Language." That endeared him to all prescriptive grammarians (a very endangered species), but he remains an inspiration to all curmudgeons.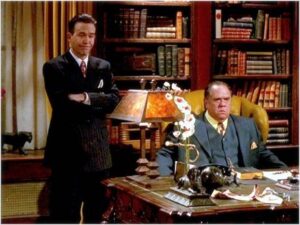 There were some Nero Wolfe films in the 1930s, as well as a radio series, but the best adaptations of the stories have been on television. CBS aired a brief series in 1981 with William Conrad as the portly gourmet and Lee Horsley as Archie. Horsley was surprisingly effective, but the series lasted only a few weeks. A DVD collection has been published recently, but I have not had a chance to watch the episodes.
Wolfe fared much better with a two-year run on A&E; Maury Chaykin and Timothy Bottoms were excellent as Nero and Archie; the adaptations of the novels  and stories were excellent. One unique aspect of the series was the ensemble acting; the actress playing Lily Rowan, Archie's favorite female, might appear in one episode as Lily and as a murderess in the next episode, and as the victim in another. This was confusing at first, but I became accustomed to it very quickly.
My sister (yes, there are two of us) has asked if I plan to see "The Lion King" when it opens on July 19,  but I am not sure. I am a bit wary of the trend of making live-action versions of classic animated films, but, if the weather holds, I may venture forth.