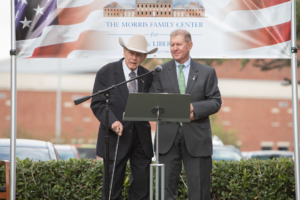 The visionary leadership of HBU Founding Father, Dr. Stewart Morris, Sr., helped set HBU on the course it is today as a national, comprehensive University. One of his greatest legacy projects through the Joella and Stewart Morris Foundation is underway with The Morris Family Center for Law & Liberty Construction Groundbreaking, to be held at 10 a.m., Tuesday, March 2, 2021, on HBU's campus near the Fondren Road entrance. The groundbreaking will also be streamed via HC.edu/Live.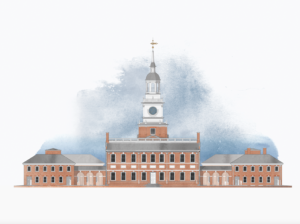 "HBU is grateful to Dr. Stewart Morris and the Morris family for their commitment to the University," said HBU President Robert B. Sloan. "The Center will be modeled after Independence Hall in Philadelphia. It will include a main building, two dependencies that are true to the historic site, and an additional classroom building. While embracing the promise of the future, the edifice will provide an important connection to American founding principles. The Center will promote the ideals of liberty, the rule of law, and free enterprise. Within its inspired walls, students will learn about and discuss history, government, law, economics, and philosophy. As the construction project begins, naming opportunities are available for key historic areas, classrooms, and office spaces. The vision for the Center includes additional facilities in the future."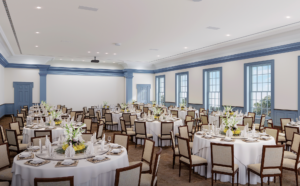 Dr. Chris Hammons, HBU Professor of Political Science and Director of The Morris Family Center for Law & Liberty, said the new construction will further the work of the Center. The Center currently offers student seminars, faculty lectures, and teacher workshops throughout the year. Students have learned about American history through visits to Boston, Colonial Williamsburg, Jamestown, and the Alamo. The Center offers unique opportunities and scholarships for HBU students, public outreach to the greater Houston area, and educational events for the Houston business and legal community. Dr. Hammons notes that the buildings are not meant to be a museum, but rather teaching spaces that will add heightened significance to classroom discussions and lectures.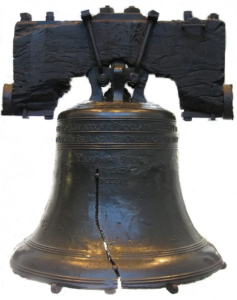 "Through the generosity of Dr. Stewart Morris and his family, along with many others, this addition to the HBU campus will now become a reality. American history has always been a passion for the Morris family," Hammons said. "We wanted to create a venue that would make students feel like they are right there, at the start of our nation, facing some difficult choices. Whether it's 1776 or 2021, the questions we face as a nation are largely the same. We can learn a great deal from the past."
Learn more about HBU Founding Father Dr. Stewart Morris, Sr.
The mission of the Morris Family Center for Law & Liberty at Houston Baptist University is to 1) educate all people about the principles that make America an exceptional nation; 2) train and equip teachers, lawyers and the business community to articulate and defend our nation's founding principles; and 3) facilitate civil discourse among diverse groups about politics, public policy and the future of the United States of America.