Dr. Edward D. Hodo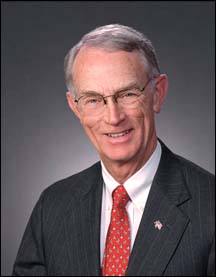 President 1987- 2006
President Emeritus 2006-2016
Dr. Edward D. (Doug) Hodo, who served as the second president of Houston Christian University from June 1, 1987 until his retirement in July of 2006, passed away on October 10, 2016, in his home in Boerne, Texas. He was 81 years old.
During his service as president, Dr. Hodo created an integrated leadership team that resulted in informed decision-making and effective internal communication processes for the University. Under his leadership, new academic programs were developed, and campus facilities expanded to include the Hinton Center, the Baugh Center, the Husky Village Apartments and the Glasscock Center. In 2006, construction began on the first phase of the Morris Cultural Arts Center, which was dedicated in 2007.
Dr. Hodo placed HCU on a firm financial foundation, helped grow the school's endowment and maintained the University's commitment to faith in Jesus Christ. During his tenure at HCU, alumni numbers increased dramatically, and the renowned Bible in America collection – one of the most significant Bible collections in the last 50 years – was added to the University's museum.
In September of 2006, the Board of Trustees honored Dr. Hodo and his wife, Sadie, for their 19 years of service to the University by naming them President Emeritus and First Lady Emeritus. In 2013, Houston Christian University honored the Hodos with the naming of the Sadie and Doug Hodo Residence College.
Dr. Hodo was born in Amory, Mississippi. He entered the University of Mississippi in 1952 but left to serve in the United States Army from 1954 to 1956. He re-entered the University of Mississippi in 1956 and graduated with a Bachelor of Business Administration in 1958. Dr. Hodo continued his education at the University of Mississippi and received two master's degrees in 1965 and a Doctor of Philosophy in Economics and Finance in 1968. In 1972, Dr. Hodo became dean of the College of Business at the University of Texas at San Antonio, a position he held until he became president of Houston Christian University.
He was involved with many for-profit and not-for-profit boards and was a founding board member of USAA Bank, Houston Christian High School, Living Water International and Castle Hills Baptist School.
Dr. Hodo is survived by his wife of 57 years, Sadie Branch Hodo, three children, ten grandchildren and one brother.