There is an old saying that "only mad dogs and Englishmen go out in the noonday sun."  I do not suffer from hydrophobia, but I am of English extraction. Even so, I had more sense than to go outside during the weekend of August 12. I might have ventured out of the house if something really interesting had opened at the theater that weekend, but such was not the case. I did briefly consider "Wind River," but I abandoned that idea very quickly.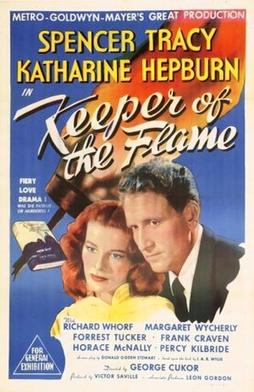 I did manage to read quite a bit that weekend, but I also watched two films I had not seen in decades. The first was Katharine Hepburn and Spencer Tracy's 1942 political thriller, "Keeper of the Flame." I had only seen it once, back in 1957, but it has stayed in my memory since then.  It holds up very well, but the ending now seems a little too pat.  It is always fun to see Tracy and Hepburn together.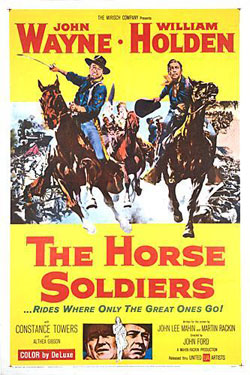 The other film was a 1959 John Ford-John Wayne collaboration that was NOT a western. I had read Harold Sinclair's original novel, "The Horse Soldiers," a year or two earlier and had enjoyed it, but I remember not being that impressed by the film. I am happy to report that I was much more impressed in 2017 than in 1959; of course, I do know a bit more about the Civil War than I did then. Wayne and William Holden do well, but I was very interested in watching Althea Gibson as a slave who is loyal to her mistress but has a simmering resentment of being considered "contraband" by the Union soldiers.
Even if the story is set in the deep South during the Civil War, you could change the landscape and the film would be another western.