The weekend of September 21 seemed a little dicey at first glance; curmudgeons don't do well in wet weather and Houston was still drying out from its latest round of "incumbencies." I did venture out and had to choose between "Ad Astra," "Downton Abbey," and "Rambo: Last Blood." I chose the middle option and am glad I did.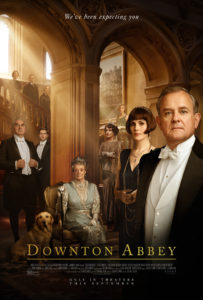 "Downton Abbey" assumes that the audience is deeply familiar with the original six television seasons of the PBS/BBC soap opera and picks up where the final season ended. The bloom of youth is off for some of the characters, but their basic natures have not changed. As far as I can tell, all the cast members are the same and the audience has to remember the various relationships. Some of the characters who had almost faded from the original version receive considerably more prominence in this very long movie version, particularly Tom Branson.
The plot involves the havoc caused by a sudden visit from the royal family; an assassin is lurking stealthily, the servants of the royal household are more snobbish and rude than any aristocrat ever hoped to be, Carson's "temporary" replacement as chief butler has a dark secret, Lady Mary is still less than cordial, and Lady Violet is her usual sprightly and acerbic self. The one big surprise is that there is another branch of the family with whom the Dowager Duchess has a serious quarrel. To borrow a cliché from old newspaper accounts of birthday parties: "A good time was had by all."
Will there be a sequel? There are enough unresolved story lines to make a sequel viable, and this film will probably make more than enough money to pay for a sequel. As long as the producers can keep the cast intact, there will probably be an audience for more visits to the Abbey.
I do look forward to the DVD version with closed captions; I lost too many lines.