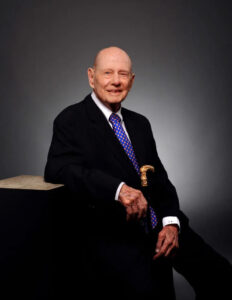 Houston Baptist University founding father, Dr. Stewart Morris, Sr., will celebrate his 100th birthday with a ceremonial groundbreaking for the Morris Family Center for Law & Liberty. The ceremonial groundbreaking will be at 11 a.m., Monday, Oct. 28, on HBU's campus near the flagpoles at the Fondren Road entrance. As the highest giver in University history, Dr. Morris announced the lead gift of more than $10 million from the Joella and Stewart Morris Foundation for the establishment of the Morris Family Center for Law & Liberty; it will be housed in a building modeled after Independence Hall on HBU's campus. The Center will promote the American founding principles of liberty, the rule of law and free enterprise.
The contributions of Dr. Morris to HBU cannot be understated. Dr. Robert Sloan, HBU president, said, "There is no other single person more influential in the founding and earliest history of HBU than Dr. Stewart Morris, Sr. Humanly speaking, we would not be here without him. He continues to change the life of the University even today."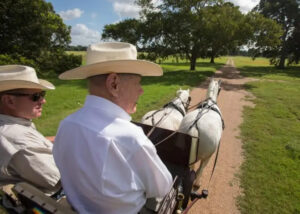 From securing funds for University land in the 1950s to helping ensure the success of the school, Morris put HBU on the path to becoming the national, comprehensive university it is today. Notably, Dr. Morris and his late wife, Joella, helped provide the beautiful Joella and Stewart Morris Cultural Arts Center, brought the Museum of Southern History in the Arts Center to life, and supported the Morris section of Husky Stadium. In 2018, The Morris Family Center for Law & Liberty was established. Morris was the first donor in 1969 to HBU's prestigious endowed scholarship program. Through the generosity of Dr. Morris, scholarships have helped numerous students. Today, there are more than 300 endowed scholarships. The leadership and philanthropy of Dr. Morris have helped and inspired many. Recently, a bench with a seated statue in his likeness was added to the campus. Fittingly, the statue depicts him in his cowboy boots and hat, holding a Bible turned outward. Read about his incredible legacy.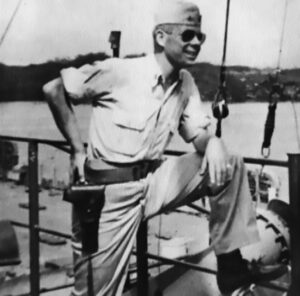 Dr. Stewart Morris, Sr. Facts
Was a Navy Officer in World War II
Husband of 70 years and father of three
Served as president and co-chief executive officer of Stewart Title
Helped secure land and found Houston Baptist College (now University)
He learned to converse in Spanish
Got his pilot's license and logged 6,300 flight hours
Expanded Stewart Title into all 50 states and 40 countries
He served for 80 years at Stewart Title
He is a history aficionado and still drives horses pulling antique carriages
He is the largest lifetime donor to HBU