Hello Parents and Families of HCU Students!
My name is Stacey Graham and I am the Coordinator of Student Involvement: Clubs and Organizations. That long title means that I work directly with all of our wonderful organization leaders on campus: this includes our fraternities and sororities, cultural organizations, pre-health societies, advisers, and more. I have been in my position since August of 2018 and have loved every second of it—the late nights, random weekend events, free food, and a plethora of HCU Swag.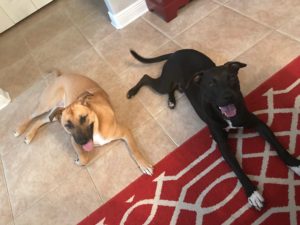 I am from Seabrook, TX, studied Social Work at the University of Mary
Hardin-Baylor (Go Cru!), received my Masters of Christian Education from Dallas Theological Seminary, and have a passion for discipling college students to draw closer to Jesus. Before working at HCU, I was a substitute teacher, on staff with Young Life, worked at Star of Hope (a homeless shelter in downtown Houston), and a BSM Intern at McNeese State University. My wonderful husband of five years, Alex Graham, is a tennis professional at a Houston-area tennis club and we have two big, hilarious dogs, Blue and Max. We attend Tallowood Baptist Church where we serve in the College Ministry, and we love to play ultimate Frisbee, travel to amazing hiking spots, and take naps on Sunday afternoons.

My hope for all HCU students is that during their time here, they will come to know Jesus closely and deeply, that their experiences (even the hard ones) will shape them into mature and kind people, and that they develop friendships and support systems that will stick with them for a lifetime.
Sincerely,