DMin Faith & Culture Faculty Focus
The Doctor of Ministry program at Houston Theological Seminary is designed to be a formative experience for Christian leaders who want to be subject-matter experts. In our Faith & Culture Track, you'll gain that expertise by developing real and substantive relationships with other subject-matter experts in Faith and Culture like Michael Ward and Philip Tallon.
Faculty Focus: Phil Tallon
Phil Tallon is an Associate Professor of Theology at HCU and the Dean of the School of Christian Thought. His work is focused on the intersection of theology and culture, including his PhD from the University of St Andrews on theodicy and theological aesthetics. Dr. Tallon is the author of The Poetics of Evil (Oxford University Press, 2012) and The Absolute Basics of the Christian Faith (Seedbed, 2016). He has published over 20 essays on theology and the arts, including "The Argument from Beauty and Play" in Two Dozen (or so) Arguments for God (Oxford, 2018). He is the co-editor of The Philosophy of Sherlock Holmes (with David Baggett).
Phil's vision for the DMin: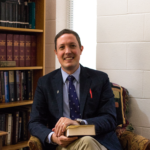 We live in a changing world. There are always new ingredients being added to our cultural soup. So I'm excited that the DMin will train ministers to understand the current cultural moment, in order to address the world's deepest needs. Preaching and apologetics must find new ways to deliver the truth, beauty, and goodness of the gospel to modern people. Ministers who come to study with us will dig deeply into the Bible, but also into the cultural forces that shape us.
Faculty Focus: Michael Ward
Michael Ward is Professor of Apologetics at HCU and a leading expert on the works of C.S. Lewis. He lives in his native England and is a Research Fellow of Blackfriars Hall at the University of Oxford. He teaches online for HCU's MA in Apologetics program and visits Houston every Spring to give lectures and meet students in person. Dr Ward is the author of After Humanity: A Guide to C.S. Lewis's The Abolition of Man and co-editor of The Cambridge Companion to C.S. Lewis but is best-known for his ground-breaking and award-winning Planet Narnia: The Seven Heavens in the Imagination of C.S. Lewis (Oxford University Press).  According to Biblical scholar N.T. Wright, "With Planet Narnia, Michael Ward has established himself not only as the foremost living Lewis scholar, but also as a brilliant writer."  Professor Ward presented the BBC television documentary, The Narnia Code, and on the fiftieth anniversary of Lewis's death unveiled a permanent national memorial to him in Poets' Corner, Westminster Abbey, London.
Michael's vision for the DMin: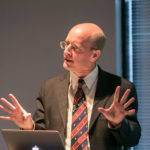 My study of C.S. Lewis has taught me the vital importance of relating Christian faith to contemporary culture. To relate them successfully we need to have a love and knowledge of them both. Our faith must be living and personal, but also academically astute.  Our cultural awareness must be informed and perceptive, but also charitable. A great deal of Christian ministry involves what Lewis called "translation," – translating the timeless truths of the faith so that they connect with and shed light upon the very time-bound concerns of the present day. And to be a great translator you must understand both languages from within, which is why this Doctor of Ministry program in faith and culture is so essential.
More Information
Explore more detailed information about the DMin program:
We would love to have you join our community of faith, as you take this next step in your leadership development. Please contact Richard Olds, the administrator of the DMin program, for more information: oldsrd@hbu.edu or call the DMin office at 281-649-3383.