Museum of American Architecture
and Decorative Arts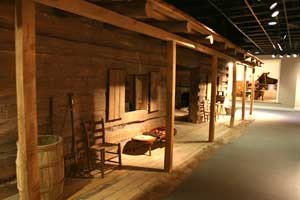 Visitors to The Museum of American Architecture and Decorative Arts take a step back in time as they learn about the social history and material culture of people settling in Texas between 1830 and 1930. The Museum provides a warm, intimate and friendly setting for the household furnishings and decorative arts which help the visitor appreciate the changes that occurred as Houston grew from a frontier settlement to a town.
Several room settings depict a lively view of Texas history. Old cast iron pots and a 1790 rifle enhance the 1840's dog trot cabin. An old wooden churn and a spinning wheel complete the decor. The pioneer bedroom inside the cabin contains a maple bed overlaid by a hand loomed jacquard spread with the date of 1846 worked into a design of the Capitol in Washington, D.C.A. Victorian bedroom of the elegant 80s is furnished with a massive bed from New Orleans and a ladies needlepoint chair with delicate cabriole legs.  This room is representative of a 1870's-1880's home in Houston with electricity, decorative wood, and imported wall paper. This room also includes some children's playthings to indicate additional free time held by the Victorians.
Sure to enchant the museum's visitors, both young and old, are the Theo Redwood Blank Doll Collection and the Schissler Miniature Furniture Collection. The doll collection, one of the finest in the country, shows the evolution of play dolls, from a rare Georgian period carved wooden doll, to 19th century paper mache dolls with molded hair, china and bisque dolls with leather bodies, wax over composition, fabric and many examples of 20th century dolls. The collection also contains doll-like figures from Egyptian, pre-Columbian, African and Chinese cultures.
The Schissler Miniature Furniture collection consists of 23 pieces of antique miniature furniture dating back to the 1800s.Each year in December visitors to the museum may experience Christmas around the world. Drawing from its collections of Nativities, dolls and toys, Santas and other gift bringing figures, the museum seeks to enlighten its visitors about our own holiday customs as well as those in many other countries.