Dunham Bible Museum
The Dunham Bible Museum will be closed November 22-25 for the Thanksgiving Holidays.
Special events:   
"Discovering the Dead Sea Scrolls" by Dr. Randall Price, January 11, 2024, 7 pm, Belin Chapel   
"Scribes and Scripture" conference by the Text and Canon Institute with Drs. John Meade and Peter Gurry, Saturday, January 20, 2024, 9am-2:30pm, Belin Chapel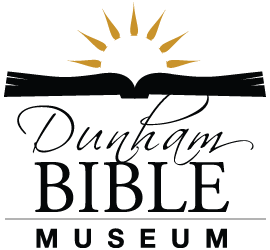 The Dunham Bible Museum, with its extensive collection of rare Bibles, is dedicated to telling the story of the most important book in the world. On public display are:
ancient manuscripts
decoratively illuminated medieval Scriptures
examples of the earliest printed Bibles
the earliest Bibles in English
the earliest Bibles printed in America
Bible translations from across the centuries and around the world.
The Museum's creative exhibits awaken and enhance an appreciation of the history, preservation, and influence of the one Book most influential in individual lives and in the culture of civilizations.
Dunham Bible Museum: Visitor and Contact Information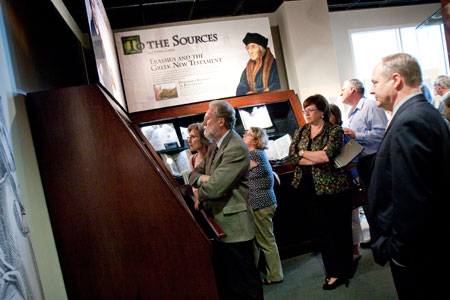 The Dunham Bible Museum is open Monday-Saturday, 10-4, except days when the University is closed.  The Museum is also closed the Saturday before Monday holidays.
Group and special tours are by appointment.
There is no entrance fee to the Museum, but donations are welcomed.
The Museum is located in the Morris Cultural Arts Center of Houston Christian University, at 7502 Fondren, Houston, Texas 77074-3298. The Cultural Arts Center can be reached through University entrance #2 from Fondren or entrance #3 from Beechnut, as seen from the Map of the University.
---
For more information, including information on scheduling group tours and presentations, contact:
Dr. Diana Severance, Director
The Dunham Bible Museum
Houston Christian University
7502 Fondren Road
Houston, TX 77074
Phone: (281) 649-3287
E-mail: dseverance@hc.edu