Children's Corner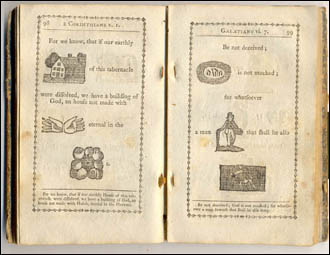 Once the Bible became available in the language of the people, learning to read and educating children in the truths of the Bible became important. The Dunham Bible Museum includes a small collection of Bibles for children and Christian books for young people. Copies or transcriptions of some of them are included here.
Morning Stars or Names of Christ for His Little Ones by Francis Ridley Havergal (1889). This little book for children by poet and hymnwriter Francis Havergal provides short explanations of 31 names for Christ. Though she gives the chapter of the Scripture references, the verse numbers are left blank, encouraging the young people to look up the passage for themselves.
Hervey Wilbur's New Testament for Schools (1823) – Colossians.   Hervey Wilbur's New Testament was designed for use in common schools, private families, Sunday schools, and Bible classes.  At the end of the New Testament was a fold-out page with a set of lettered questions on doctrines or duties spoken of in the Scripture.  Students were to match the letters beside each verse with a question and answer the question(s) for that verse – a kind of inductive Bible study. As a sample, we've included he book of Colossians.  Let us know if you like this Bible study, and we will make more available online.