Senior Catcher Heidi Jaquez Leads Huskies in 2020
(Note: Since this story was written,  spring sports were canceled. We salute all athletes!)

By Russ Reneau 
One hundred thirty-two games in three seasons. Sure, that's the number of games HBU Softball has played, but it is also the number of consecutive games in which senior Heidi Jaquez has started and strapped on her catcher's gear during her collegiate career. 
The Wharton, Texas, native hit .277 with seven home runs, three doubles, two triples, 19 RBIs and a team-leading 27 runs as the Huskies' went 23-23, but missed qualifying for the Southland Conference Tournament by one game, which has left the team hungry to raise the bar in 2020. 
"I think this team and this year we are a lot closer than we were last year; we have better communication on the field and outside of practice," Jaquez said. "I definitely think we all want to be successful as much as the person next to us does and to go to the conference tournament, because we haven't been in a while. I know if we keep pushing hard, hard, in February – we have four tournaments back-to-back, which is wild – I think we're going to have a great year."
Jaquez and infielder Amber Lotz are the four-year mainstays with the Huskies and are joined by outfielders Haley Melton and Riley Bullen to comprise the senior class. This HBU squad is still very young with 10 underclassmen (six freshman and four sophomores) and four juniors, but Jaquez is happy for everyone to share in the identity of this program.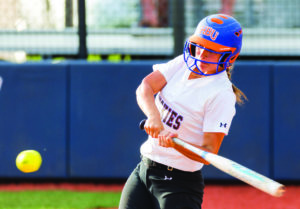 "When I first came to HBU, I was not a leader. I thought that was the older girls' job and 'I'm just coming in, I don't know what to do.' I don't think there is necessarily one leader on a team, but as seniors, we work really well together and the underclassmen look up to us in a good way. I think that's what we're trying to do is set a good example so people know what to do next year and it just keeps going on and on and on." 
The Huskies have not only grown as players during the offseason, but also off-the-field with some fun team-building exercises. 
"We're definitely growing as a team, and physically, we are all there. We all have the physical abilities we need to make it to the conference tournament," Jaquez said. "What I like about this year is (athletic performance) coach Charlie (Rhea) is making us do this 'good word,' so every day somebody has a 'good word' they preach, in a way, on how they feel. It's really helping us as a team to grow closer." 
Heading into her final season at HBU, Jaquez believes she knows what it will take for the Huskies to achieve their goals. 
"We have to fight until the end and push all the way through," Jaquez said. "Our schedule is super busy, but we are together all the time and everyone wants it as bad as the next person, so there should be no problem fighting until the end. There's going to be down sides in life in general and in the game – that's just how it is – but you have to know how to come back from those, and the main thing is to not give up when we're down and keep pushing to the final out."