Dr. Levon Hayrapetyan, HBU professor of Business, was named a 2020 Piper Professor by the Minnie Stevens Piper Foundation. The Piper Professor Program honors outstanding Texas faculty members who are known for their teaching abilities, their subject-matter expertise, service, and their scholarship. There are 10 awardees in the state of Texas annually; each honoree receives $5,000.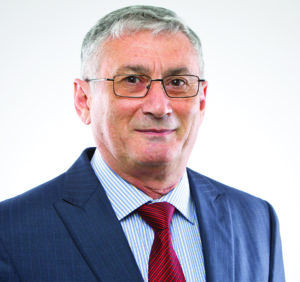 Dr. Michael Rosato, HBU provost, said, "Dr. Hayrapetyan is so deserving of this significant recognition and definitely represents well the high-quality faculty members who serve at HBU. He typifies, in tangible ways, the mission of Houston Baptist University, which concludes with our central confession, 'Jesus Christ is Lord.' I am so happy for Dr. H. and for HBU. Congratulations, Dr. Hayrapetyan!"
A native of Armenia, Hayrapetyan earned his bachelor's and master's degrees in Applied Mathematics from Yerevan State University. He completed his doctorate work in Applied Mathematics and Cybernetics at Kiev State University in Ukraine. After teaching at Yerevan State University, he was invited to The State University of New York, Health Science Center at Syracuse, as a researcher. Hayrapetyan has won various awards for his instruction, including the Walmart Teaching Excellence International Award.
Hayrapetyan remembers, "In the summer of 1999, my family arrived in Houston with a couple of suitcases, $2,000 of borrowed money, little English, no relatives or friends, and no job. In August, I was blessed with a job offer from Houston Baptist University. The first few years were really challenging for me. Everything was new – language, culture, teaching methods, faculty-student relationships, and Houston weather. However, thanks to my hard-working nature, dedication to teaching and learning, perseverance, unconditional family support, and being surrounded with great colleagues, I overcame those obstacles. In my tenure at HBU, I have created a unique blend of American and European teaching methods and styles, which has enabled me to identify students' strengths and arrange their learning around those strengths. I have taught for more than 20 years at HBU with great pride and satisfaction. Teaching is my real passion. My teaching philosophy is about 'the three L's': Love your students, Love your subjects, and Love teaching. I have been unconditionally devoted to this philosophy throughout my entire teaching career."
Each year, the colleges of HBU each select a Piper Professor Nominee. These individuals represent the very best in teaching and professional development in each college. Ultimately, the University selects a single candidate to represent HBU to the Minnie Stevens Piper Foundation. Dr. Hayrapetyan joins several HBU professors who have been honored as Piper recipients by the Foundation.
HBU Piper Professor Foundation Honorees:
2020: Levon Hayrapetyan
2008: Linda Brupbacher
1991: Doris Warren
1982: Marion Webb
1976: Marilyn Sibley
1972: Joyce Fan
1970: Calvin Huckabay