Under the Microscope Speaker Series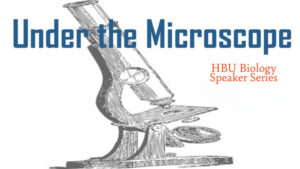 The Under the Microscope Speaker Series began in 2012 with the goal of building a community of learners amongst HCU students and faculty by inviting scientists to share their current biological research endeavors in a scientific seminar format. The speaker series engages students by challenging them to apply their textbook and classroom knowledge to the scientific research being presented and encouraging discussion about research and trending scientific topics. The HCU Biology department aims to bring Athens and Jerusalem together with our Under the Microscope Speaker Series, especially as it educates our students, making their world "deeper, denser, and more beautiful" (Pillar Seven, "The Ten Pillars").
All students and faculty are welcome to attend the seminars and reception with light refreshments that follows.
Some of our past Under the Microscope speakers have included:
Summer Undergraduate Research Presentations, 2021-2022 RAMP Fellows
Jolie Schafer, Ph.D., HCU Class of 2012, Biology and Biochemistry and Molecular Biology, Medical Science Liason, Kiadis
"From HCU Classroom to My Dream Job Within Biotech", April 2020
https://zoom.us/rec/share/wcUkNeGhyU9LWtLu9HryQ-0MNb28T6a80HdI_6AFxBrK00VGu3Ezwz12M32S_SGN
p/w: m4!&9=3v
Scott M. Smith, Ph.D., Nutritionist, Manager for Nutritional Biochemistry, Nutritional Biochemistry Laboratory, NASA Johnson Space Center
"The NASA Twins Study: The Nutritionist's Perspective", October 2019
Donna Chang, President and CEO of Hope Biosciences
"The Future of Mesenchymal Stem Cells and Regenerative Medicine", September 2019
Jacob Flores, Oscar Benitez Jr., Peter Bolin, Arshaina Rehman, Tristan Henderson, Juan Cerda III
HCU Biology/BCMB Students, Summer 2019 Undergraduate Research Projects, September 2019
Peter Hotez, M.D., Ph.D., Dean of National School of Tropical Medicine, Professor in Department of Pediatrics and Molecular Virology & Microbiology, Baylor College of Medicine, Endowed Chair in Tropical Pediatrics, Texas Children's Hospital, Co-Director of Texas Children's Hospital Center for Vaccine Development
"Drug and vaccine development for tropical diseases", April 2019
Chris Amos, Ph.D., Associate Director of Quantitative Science, Director for the Institute of Clinical and Translational Medicine, Baylor College of Medicine
"Development and findings of a multinational study to understand genetic underpinnings of common cancers", March 2019
Bill Jackson, Ph.D., Founder and Chief Scientist, Base Pair Technologies, Inc.
"Aptamer Applications in Research, Diagnostics, and Therapeutics", February 2019
Charles S. Cox, Jr., M.D., George & Cynthia Mitchell Distinguished Chair in Neurosciences, Director of Program in Children's Regenerative Medicine, Co-Director of Texas Trauma Institute, McGovern Medical School, UT Health
"Regenerative medicine and cellular therapies – believe the data, not the hypotheses", November 2018
Kenneth Palle, Karen George, Ariana Maleki, Samantha Doskocil, Katherine Chu, Jacob Flores, John Coggins
HCU Biology/BCMB Students, Summer 2018 Undergraduate Research Projects, September 2018
Karen Posey, Ph.D., Assistant Professor, Department of Pediatrics, McGovern Medical School, UT Health
"Molecular mechanisms that contribute to cartilage-related conditions", April 2018
Pei-Yong Shi, Ph.D., I.H. Kempner Professor, Human Genetics, Vice Chair for Innovation and Commercialization, Department of Biochemistry & Molecular Biology, University of Texas Medical Branch
"A single-dose live-attenuated Zika vaccine", February 2018
Megan Grove, M.S., Principal Laboratory Scientist, Human Genetics Center, Department of Epidemiology, School of Public Health, UT Health Science Center
"Genetic and epigenetic laboratory methods to study the epidemiology of autism", December 2017
Michael Lorenz, Ph.D., Professor, Department of Microbiology and Molecular Genetics, McGovern Medical School, UT Health
"The fungal pathogen Candida albicans subverts immune function through specialized metabolic adaptations", November 2017
 Ryan Riahi, M.D., Dermatologist, DermSurgery Associates, HCU Alum
"Topical Retinoids: Therapeutic Mechanisms in the Treatment of Photodamaged Skin", October 2017
Guillermina Lozano, Ph.D., Professor and Chair, Department of Genetics, UT M.D. Anderson Cancer Center
"The p53 tumor suppressor pathway", September 2017
Dianna Milewicz, M.D., Ph.D., Chair, Department of Internal Medicine; Director, M.D./Ph.D. Program, McGovern Medical School, UT Health
"Why We Need Physician Scientists", May 2017
John Byrne, Ph.D., Chair, Department of Neurobiology and Anatomy, McGovern Medical School, UT Health
"Key Concepts and Principles of Learning and Memory", April 2017
Rachel Miller, Ph.D., Assistant Professor, Department of Pediatrics, McGovern Medical School, UT Health
"Tube or not tube: Wnt signaling in kidney tubulogenesis", March 2017
Hugo Bellen, DVM, Ph.D., Professor, Departments of Molecular and Human Genetics and Neuroscience, HHMI Investigator, Baylor College of Medicine
"Undiagnosed Disease and the Use of Flies in Diagnoses", February 2017
Mikhail Kolonin, Ph.D., Associate Professor and Director, Center for Metabolic and Degenerative Diseases, McGovern Medical School, UT Health
"Adipose Stromal Cell: Therapeutic Use, Pathological Roles, and Targeting", November 2016
Claudio Soto, Ph.D., Professor, Department of Neurology, McGovern Medical School, UT Health
"Protein Misfolding at the Root of Brain Diseases: Strategies for Treatment and Diagnosis", October 2016
Carrie Graham, M.S., Graduate Student, McGovern Medical School, UT Health
"Inhibition of Candida albicans biofilms and virulence by Enterococcus faecalis bacteriocin, EF1097", September 2016
Rachel Hopp, Ph.D., Former HCU Biology Faculty Member
"Pulling an All-Nighter:  Sleep Deprivation and Your Genes", April 2014
Hannah Wingate, Ph.D., Associate Professor of Biology, HBU
"Frankenfoods or fantastic foods? Do genetically modified foods make a healthy body?", November 2013
Betty Thompson, Ph.D., Former HCU Biology Faculty Member
"Analyzing Buffalo Bayou: Clean Water for a Healthy Body", September 2013
Susan Cook, Ph.D., Professor of Biology, HBU
"Adult Stem Cells – Recent Progress", February 2013
Curtis Henderson, Ph.D., Professor of Biology, HBU
"West Nile Virus Under the Microscope", September 2012
Honors in Biology Thesis Presentations:
Michael Clowers, "Antimicrobial properties of Solenopsis invicta Transferrin", May 4, 2018
HCU Faculty Mentor: Dr. Agnieszka Czopik
Nemil Bhatt, "Testing for Tetracycline Resistance in Propionibacterium acnes Using PCR", May 5, 2017
HCU Faculty Mentor: Dr. Jackie Peltier Horn
Kristen Ott, "Effects of Src Inhibitor PD166285 on Triple Negative Breast Cancer Cells", May 5, 2017
HCU Faculty Mentor: Dr. Hannah Wingate
Alexander Pop, "The Effect of Infrasonic Mechanical Vibrations on the Biofilm Formation", November 20, 2014
HCU Faculty Mentors: Dr. Jackie Peltier Horn & Dr. James Claycomb
Anam Kesaria, "An Analysis of Biofeedback, Alpha Waves, and Word Recall", November 6, 2014
HCU Faculty Mentor: Dr. Rachel Hopp
Gloria Besil, "Analysis of the Changes in Acquisition of Resistance to Bacteriostatic and Bacteriocidal Drugs by Escherichia coli", November 15, 2013
HCU Faculty Mentor: Dr. Rachel Hopp
Jean Ghosn, "Use of Polymerase Chain Reaction (PCR) to Detect Naegleria fowleri in Texas Lakes", April 26, 2013
HCU Faculty Mentor: Dr. Hannah Wingate
Heather Wilbourn, "Influence of Bacteria and Dissolved Organic Carbon on Algal Growth", April 27, 2012
HCU Faculty Mentors: Dr. Nicole Pinaire and Dr. Jackie Peltier Horn