Who I Am and Why I'm Here
My name is Alex Hersperger and I have had the pleasure of serving as the First and Second Year Coordinator at Houston Christian University since October. As the First and Second Year Coordinator, I help in ensuring that your student has a smooth transition into and at college as well as finds their fit here at HCU. A part of that is organizing events such as Welcome Days, an extended orientation program that occurs the four days before classes starting, First Year Seminar, a course all incoming students take, and Huskypalooza, the programming that occurs on campus the first two weeks of class. Additionally, I serve as the connection for Parents and Family to the university. My goal is to help parents and families be a part of their student's college experience here at Houston Christian University through newsletters, social media, events, etc. If there is a question that you have about your student's experience, please do not hesitate to reach out to me and if I cannot answer the question then I will be sure to connect you with the proper person.
As a little bit about me.
I grew up in a large, blended family in Spring, TX and I played every sport under the sun. When it was time to go to college, I had my eyes set on Texas A&M University in College Station but landed at a small branch school known as Texas A&M at Galveston, with hopes of transferring to College Station after the first year. I still remember when we were driving to the campus tour looking at my mom and saying, "You CANNOT make me go here." It is funny how God (and your mom) always knows what is best for you, because within my first year in Galveston, I made the decision stay.
During college, I was involved or an officer for five student organizations and held two on-campus jobs. I was the student that was, what we call in higher education, TOO involved and I was regularly confused as a staff member. While I was working towards a Bachelor of Science degree in Maritime Administration (read: business of ships and shipping degree), I fell in love with what I was doing outside of the classroom. During the summer before my senior year, I found myself counting down the minutes of my internship to go work on planning campus events and working new student orientations. Which was problematic considering I had already told half of the world that I would be going to law school post-graduation. After various conversations with God, my parent, mentors, the on-campus career center, I decided that I needed to follow my passion over my plans.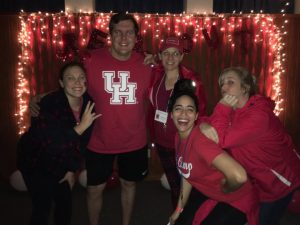 Directly after graduation from A&M Galveston, I enrolled in a Masters of Higher Education Administration program at the University of Houston where I worked as a graduate assistant in their Dean of Students Office. It was during this program and job, where I further discovered a desire for helping students find their fit at a university through what is known as "extended orientation" and "transition programs". The only problem was that I knew in my heart that I needed to be back at a smaller university because I missed the sense of community that small universities had.
In October 2017, I started my dream job here at HCU that checked off all of the boxes on my wants f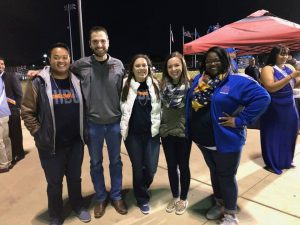 or a job: a small institution, working with incoming students, and located near my family. I have been blessed that these last nine months of "work" has been filled nothing with laughs and growth.
While I love working with college students through their transition into college, I look forward to creating opportunities for parents and families to be able to connect with their student's experience here at HCU. Please feel free to reach out to me if you have any questions or ideas for how to better improve the Parent and Family experience at HCU!
This post was written by Alex Hersperger, Coordinator of First and Second Year Experience