Part of what we do in Spiritual Life is create opportunities for students to spend all or part of a break living out their faith through service, and that is exactly what spring break is all about. This spring break HCU students gave of their time to serve their local community through Houston Week, and to serve their peers at South Padre Island through Beach Reach.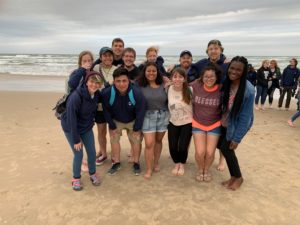 Houston week is an incredible short term opportunity for students to pour out the love of Christ on children within the local Houston community. Twelve HCU students spent Monday and Tuesday of spring break at Hope House. This is an organization that seeks to transform the Kashmere Gardens/5th Ward area of Houston through the gospel. Our students spent their time loving on and playing with children who are regularly a part of the afterschool programs Hope House provides. On Wednesday the group went to Los Arcos Apartments on Fondren Road just south of HCU. They worked with CBF Missionaries Butch and Nell Green who have established relationships and are working within the community to bring about transformation through the gospel. They spent their time on Wednesday playing with kids and doing various back yard bible club type activities.
The other part of our Spring Break team spent their entire week on South Padre Island serving the Thirty-thousand plus college students who come to the island to party. These 12 students kept a shortened sleep schedule to be available to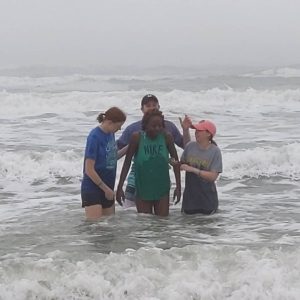 offer rides to partiers on the island from 9pm – 4am. Through providing free van rides, a midnight breakfast outside a local hot spot, and a morning breakfast our group partnered with students from other BSM's all over the state of Texas to give van rides to 11,422 people. As a group we were able to pray with 8,646 students, there were 6,943 seeds planted through gospel conversations and 79 chose to begin a relationship with Jesus during the week. Our group also had the privilege to baptize two people. One a spring breaker who made a decision for Jesus and the other one of our own students who had previously made a decision for Jesus, but had not been baptized.
The heart of both of these mission experiences is for students to learn how and practice demonstrating God's love so that they can make a lifelong practice of doing so. We want to develop students who live missionally and part of doing that is taking them on mission.