The Linda & Archie Dunham Theater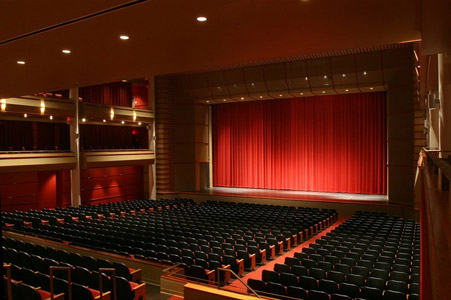 The Linda & Archie Dunham Theater features three levels of seating and is equipped with a black-painted theater stage, orchestra pit, group and individual dressing rooms, full theatrical rigging system and audio/ visual package.
Programming in the Dunham Theater offers new opportunities for students to make connections with members of the community who share their professional interests. Large productions, including choral performances, opera productions, and concert bands held in the theater will enhance students' college experience and draw members of the community to the HCU campus.
Features 1,200 seats, with orchestra, parterre, mezzanine boxes, balcony and balcony box area seating.
A total of 46,000-square feet with 8,000-square feet of acoustic drapery capable of adjusting the acoustical response time in theater from 1.4 to 2.2 seconds, depending of type of on-stage performance.
Adjustable orchestra shell capable of adjusting in size and shape to fit music groups on stage.
Orchestra pit for 25-30 musicians.
Proscenium stage with full rigging, Follow Spot Booth, and Control Rooms for sound and lighting.
Two 16-person dressing rooms and three private principal dressing rooms.
Loading dock and adjacent swing space with direct access to stage through 12'x15′ sound-rated doors.
Space designed for university programming, lecture series with appeal beyond the campus community, and large-scale productions to include choral performances, operas and concert bands.
The stage in the University Theater is 50ft. deep and 55ft. wide (usable space / does not include wings).
The Dunham Theater has already become the home for many area schools for graduations, seasonal programs, and instrumental and vocal performances. Dance schools are utilizing the venue for their recitals. Community groups, including the Houston Chamber Choir, Houston Civic Symphony and the Houston Symphony, have performed in the venue.