Belin Chapel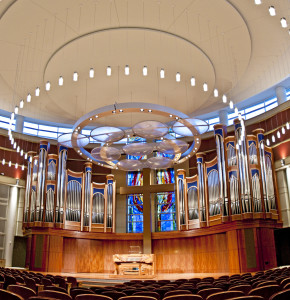 "Up to this point we have carried the chapel in our hearts; now with the new building our hearts are home."
– Donna Dee Floyd, Co-chair, Morris Cultural Arts Center, Chapel Committee
Education at HCU nurtures the whole person – mind, body, and soul, and the new Belin chapel is an integral part of students' HCU experience.  The addition of the Belin Chapel and Recital Hall marks the first time in University history that a Chapel has been located on campus.
The circular exterior features custom masonry, decorative columns and an impressive cross that spans nearly the entire vertical height of the building. Located along the perimeter of the Chapel's interior, custom acoustical drapery encased in metal panels can be opened and closed to balance sound throughout the interior. The 12 acoustical stamped and painted steel panels had to be assembled on-site. The halo-like reflector ring that suspends from the stair-stepped ceiling above the stage is much more than an attractive architectural feature. Circular plastic reflectors adorning the ring resonate sound while encircling pendulum lights illuminate the stage below. A retractable projector screen can be lowered from the middle for presentations. At 19ft. deep and 57ft. wide, the spacious stage is perfect for small concerts as well as one act plays.
With a comprehensive audio / visual package and state-of-the-art acoustical features, the chapel hosts QUEST worship service on Tuesday nights, School of Music student recitals as well as academic lectures. The first wedding was held on July 28, 2007. Ministries have sponsored conferences, a variety of music groups have performed, and community cultural arts centers have utilized the facility for a variety of events such as plays and operatic performances.
Funded significantly by The Cullen Trust for Higher Education and named in honor of Dr. J. Bruce Belin and his wife, Mary Ann. Belin served on the board for the Cullen Trust and serves as an HBU trustee and former chair. Mary Ann is a member of The Guild, and has served as president of that organization.
A historic event was held in October, when Congressman Al Green brought a subcommittee hearing on Fair Housing to the Chapel. "I would like to thank (HBU) for your outstanding assistance with the United States House of Representatives Subcommittee on Housing and Community Opportunity's Filed Hearing on October 29. The Belin Chapel at Houston Christian University proved to be an excellent and beautiful location to conduct the hearing."
Thanks to a generous commitment from Jim & Sherry Smith, the Belin Chapel now showcases the beautiful Smith concert pipe organ. This instrument serves as a magnificent addition to the Morris Cultural Arts Center, enhancing worship and music performance, and bringing beauty, joy and celebration to the entire HCU campus.