McNair Hall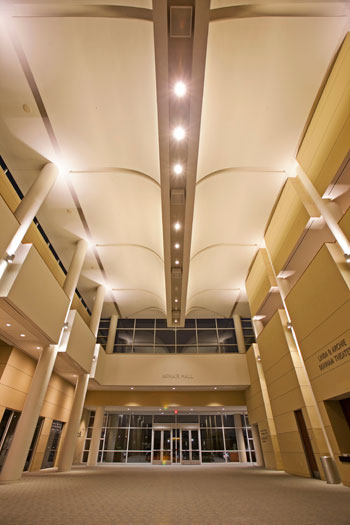 The McNair Hall adjoins the components that comprise the Morris Cultural Arts Center complex: Belin Chapel & Recital Hall, Theater & Auditorium, and Museum Spaces. Encompassing nearly 18,000 square feet of open space, McNair Hall anchors the Morris Cultural Arts Center complex.
Its tall double arched ceiling, muted color scheme and bright lighting help create an open and inviting space perfect for a wide range of special events. It can easily accommodate a served dinner of up to 400 and a standing event of 800.
A versatile location, McNair Hall has been the site of a number of University hosted events, including several seated dinner lectures as well as art exhibits.  McNair Hall is a wonderful location for wedding receptions following a ceremony in Belin Chapel. A variety of receptions have already been held from formal seated dinners to casual buffets and dancing. Chick-fil-A Corporate held their training for store owners and employees in the McNair Hall and Belin Chapel, setting up role-play stations for training purposes. ASUG/SAP held a professional vendor fair in McNair Hall.