Our Team
Gideon Therapists – Serving HCU Students

Diane C. Lamberson, MSW, LCSW-S
Director
"We are afflicted in every way, but not crushed; perplexed, but not driven to despair; persecuted, but not forsaken; struck down, but not destroyed." (2 Corinthians 4:8-9, ESV).  When experiencing difficult times we may feel afflicted, crushed, perplexed, despair, forsaken, struck down, or even destroyed.  Sometimes it's hard to see the way through or what the next steps should be.  Sometimes we know what the next steps are, but don't know if we have the strength to take them.
The good news is you don't have to walk these steps alone.  Safely sharing with someone you can trust and who will listen without judgment can begin the healing process. I consider it an honor and sacred calling to figuratively walk with people during challenging times in their lives, and believe a Christ-centered, biblically rooted, clinically informed approach to therapy that honors and welcomes people from all faith backgrounds provides a path to hope and healing.  Through this process, with utmost respect for your thoughts, feelings and ideas, we will work together to find ways to manage the challenges you face and continue forward with a firm foundation under your feet and a light for your path.  I look forward to seeing you soon.
Diane is the director of the Gideon Institute Counseling Center. A Licensed Clinical Social Worker – Supervisor (LCSW-S) with a Master of Social Work degree from the University of Houston and a Bachelor of Arts degree from the University of Texas at Austin, she has worked with adults and children in a variety of mental health and education settings for 31 years. Her areas of clinical expertise include Christ-centered psychotherapy with people who struggle with grief/loss, trauma, past/current abuse, major life transitions, relationship issues, addiction, anxiety, depression and forms of mental illness.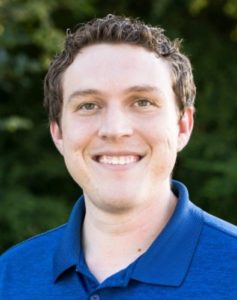 Cole Dawkins, MA, LPC
Staff Therapist
"For I am sure that neither death nor life, nor angels nor rulers, nor things present nor things to come, nor powers, nor height nor depth, nor anything else in all creation, will be able to separate us from the love of God in Christ Jesus our Lord."  Romans 8:38-39 (ESV)
I believe part of my role as a counselor is to help empower those who feel powerless or stuck. I am passionate about providing a safe environment for others where we can walk one step at a time toward healing and recovery from the challenges life brings. I take an empathetic approach, and I'm sensitive about respecting your starting point, thoughts, and opinions. In working collaboratively with others, my goal is to help others find solutions that will be most helpful for them. There is often the opportunity for good to come out of difficult circumstances, for beauty to come out of ashes. My desire is to help others search for and find the inner serenity they are hoping for.
"When we are no longer able to change a situation, we are challenged to change ourselves." -Victor Frankl.  With God's help we can meet this challenge.  Change is possible.
Cole is a Licensed Professional Counselor with a Master of Arts degree in Biblical Counseling from Dallas Theological Seminary and a Bachelor of Arts degree in Psychology from Texas Tech University in Lubbock, Texas. He has over three years of previous counseling experience from Dallas Baptist University, and has worked in other settings as well.  His areas of clinical expertise include working with anxiety, depression, relationship issues, and a variety of other concerns.
Gideon Institute Interns – Serving the Houston Community
Meaghan Hampton
Graduate Student Therapist (under the supervision of Diane Lamberson, MSW, LCSW-S)
C. Marie Freelon
Graduate Student Therapist (under the supervision of Diane Lamberson, MSW, LCSW-S)
Gideon Support Staff
Tangela Burney
Administrative Assistant