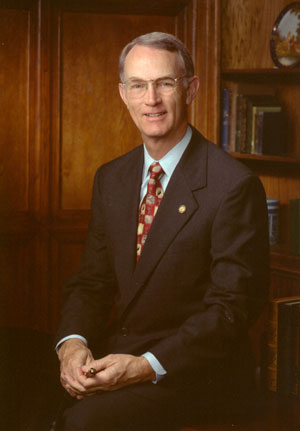 President 1987 – 2006
President Emeritus 2006 – 2016
Dr. Edward D. (Doug) Hodo served as the second president of Houston Baptist University from June 1, 1987, until his retirement in July of 2006. Dr. Hodo went to be with the Lord on October 10, 2016, after a brief battle with cancer. He was 81 years old.
Dr. Hodo impacted the Kingdom of God in countless ways. During his service as president at HBU, Dr. Hodo created an integrated leadership team that resulted in informed decision-making and effective internal communication processes for the University. Under his leadership, new academic programs were developed, and campus facilities expanded to include the Hinton Center, the Baugh Center, the Husky Village Apartments and the Glasscock Center. In 2006, construction began on the first phase of the Morris Cultural Arts Center, which was dedicated in 2007.
Throughout his presidency, Dr. Hodo hosted optional prayer meetings every Tuesday morning in Moody Library and emphasized the spiritual health of faculty, staff and students. Dr. Hodo placed the University on a firm financial foundation, helped grow the school's endowment and maintained the university's commitment to faith in Jesus Christ. During his tenure at HBU, alumni numbers increased dramatically, and the renowned Bible in America collection – one of the most significant Bible collections in the last 50 years – was added to the University's museum.
In September of 2006, the Board of Trustees honored Dr. Hodo and his beloved wife, Sadie, for their 19 years of service to the University by naming them President Emeritus and First Lady Emeritus. Dr. and Mrs. Hodo were recognized in the 1997 Spirit of Excellence Gala with the Spirit of Excellence Award. In 2013, Houston Baptist University honored the Hodos with the naming of the Sadie and Doug Hodo Residence College.
In a recent statement, HBU President Robert Sloan said, "the entire HBU family mourns the passing of Dr. Doug Hodo, but we give God thanks for his faithful service and strong witness for Christ. Dr. Hodo was instrumental in continuing and strengthening the core scriptural commitments of HBU. Much that we are able to do today we owe to him and many others like him among the Trustees, faculty, and staff who have gone before us. Our prayers are with Sadie and the Hodo family."
Dr. Hodo was born in Amory, Mississippi. He entered the University of Mississippi in 1952, but left to serve in the United States Army from 1954 to 1956. He re-entered the University of Mississippi in 1956 and graduated with a Bachelor of Business Administration in 1958.
Dr. Hodo continued his education at the University of Mississippi and received both a Master of Education in Personnel Guidance and a Master of Science in Banking and Finance in 1965. He later received a Doctor of Philosophy in Economics and Finance in 1968. While at the University of Mississippi, Dr. Hodo received a commendation from then Attorney General Robert Kennedy for his role in the integration of the University. From 1968 to 1970, he served as associate professor of economics and finance at Nicholls State University, and in 1970, he accepted a position as associate professor of economics and finance at Middle Tennessee State University, where he served as director of the Center for Research on Business and Economics. In 1972, Dr. Hodo became dean of the College of Business at the University of Texas at San Antonio (UTSA), a position he held until he became president of Houston Baptist University. He built the College of Business at UTSA, and under his leadership, the school received its first accreditation.
Dr. Hodo also taught Bible study for 60 years, including classes at Castle Hills Church in San Antonio, Second Baptist Church in Houston and at First Baptist Boerne, and he served as a deacon at each respective church. He was involved with many for-profit and not-for-profit boards including Stewart Title, USAA Bank, Houston Christian High School, Living Water International, and Castle Hills Baptist School.
Dr. Hodo's faith in Jesus Christ was the center of his life, and he even led his nurse to faith in Christ in his last days on earth. His life was a testimony of the grace, mercy and love of God.
Dr. Hodo is survived by his wife of 57 years, Sadie Branch Hodo. He is also survived by his children, Allison Hodo Clements and her husband Mike Clements, Edward Douglas (Doug) Hodo, Jr. and his wife Lori Martin Hodo, and Patrick Gunter Hodo with his wife Jennifer Robertson Hodo, as well as by his ten grandchildren: Michael (Micah) Joseph Clements, Jr., Andrew (Drew) Cole Clements, Luke Douglas Clements, John Gunter (Gunter) Clements, Hannah Leigh Hodo, Grace Ann Hodo, Edward Douglas (Douglas) Hodo, III, Hayden Ryan Hodo, Cole Bennett Hodo and Austin Gunter Hodo. He is also survived by his brother and sister-in-law, David Gunter Hodo and Mary Nan Hodo, of Amory, Mississippi.
The family has requested that donations be made to the Doug and Sadie Hodo Endowed Scholarship at HBU, the Hill Country Pregnancy Care Center or Faith Comes by Hearing.  For contributions to the Doug and Sadie Hodo Endowed Scholarship, please mail to HBU, Attention: Office of Advancement, 7502 Fondren Rd., Houston, TX 77074.
The mission of Houston Baptist University is to share the message that "Jesus Christ is Lord." Dr. Hodo lived this mission.
"But we do not want you to be uninformed, brethren, about those who are asleep, so that you will not grieve as do the rest who have no hope. For if we believe that Jesus died and rose again, even so God will bring with Him those who have fallen asleep in Jesus. For this we say to you by the word of the Lord, that we who are alive and remain until the coming of the Lord, will not precede those who have fallen asleep. For the Lord Himself will descend from heaven with a shout, with the voice of the archangel and with the trumpet of God, and the dead in Christ will rise first." (1 Thessalonians 4:13-16 NASB­)