Driven by the need to support first-generation students, HBU created a mentor program in 2014. Over the course of four years what started out small has now become a full program of academic, social, spiritual and community support.
"As a First Generation college student coming from a small town, I didn't really think I would have the opportunity to attend a small private college in a big city like Houston. The opportunity was huge! I obviously didn't know all the details about college, but the Gen 1 staff were the first people there for me," explained Victoria Simms '17, who earned her BS in Nursing. "They introduced me to a mentor, helped me get acquainted with the University, and connected me with other organizations. Gen 1 is like a small family within the campus."
The Department of Student Success was thrilled to congratulate the first graduating class of participants in HBU's First-Generation Success Program (Gen 1). This Senior Celebration in May recognized students and their families who changed family histories by prioritizing a college education. At the dinner staff, alumni, and students shared their unforgettable experiences and memories of the Gen 1 Success program. Students fondly remembered early-college fears and doubts and proudly recognized the Husky community that walked with them all the way to the graduation stage.
Gen 1 assists in creating a college experience that includes attending cultural events, serving the community together, and receiving support and inspiration through individual mentoring. While honoring the graduates, President Robert B. Sloan acknowledged the work and dedication evident in the students and their families who set the pace for future family members. Dr. David Hao, dean of student success, and Mon'Sher Spencer '08, director of student involvement and leadership programs, talked about HBU's commitment to equip under-represented minority students with essential resources and skills during their undergraduate career. They recognized that partnerships and collaboration across campus made a positive impact on these students' lives. Simms and her family enjoyed the Christ-centered celebration, and said that anything Gen 1 did to help her as a student also helped her parents not have to worry about her.
First-Year Success Coach and Co-Coordinator of the Gen 1 program Bethany Mayott loved the warmth and pride that emanated from the families.  She noted, "Our students were able to persist and graduate, and it feels good to see the fruit of four years. We started from nothing, and with the hard work and dedication of students and the supportive HBU community, we have a lot to celebrate."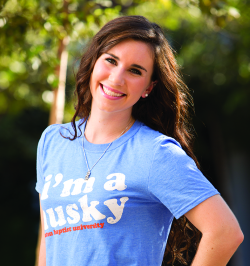 "Gen 1 events connected me with campus administrators who had confidence in me, plus i was able to know other Gen 1 students around campus. I received so much from Gen 1 that I felt like I had a lot to offer and served as a mentor too"- Simms."