They say that college is a time of self-discovery, full of both trials and prosperity, and lasting memories and friends. Little did I know, college would bring about so many experiences, both positive and negative, that would forever change me.
Now that I'm starting my last year in school for my undergrad, I feel like I'm finally settling into a routine.  My name is Iris Garza and I am an international business major…where my days are long, but filled with adventures. My current classes are Principles of Marketing, Accounting II, Business Statistics, and various other business classes. I'm involved in First Year Seminar (FYS) as a Peer Mentor, Student Foundation, and the sorority Sigma Lambda Gamma.
I wasn't the traditional first year student because of the High School I attended allowed me to earn college credit at the same time as my High School Diploma. Coming in to HCU with so many credits, it was hard finding the right first year success coach, faculty advisor, and finding answers to questions involving classification. However, the staff, faculty, and student leaders at HCU were able to help me transition by guiding me to the right personnel to help with these questions. This eventually led me to getting involved on campus in various organization. I am so excited that this year I will be a part of FYS as a Peer Mentor, an organization where we help guide incoming students through their first year of college. Hopefully I can help students like I was helped my first year with answers they may have.
Another part of the college experience I have had is growing closer to my faith. I had always been the type of person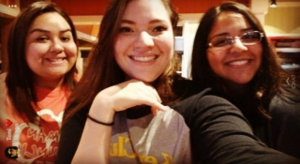 who had previously considered myself a Leader and separately a Christian. However, I remember going to a leadership summit called CASL (Christian Association of Student Leaders) and will always be thankful that I went because having some many young people together that were proud of being considered a Christian Leader showed me that I too could become a Christian Leader. Overall, I am grateful that I came to Houston Christian University. The stories and relationships I have created here will last me a lifetime.