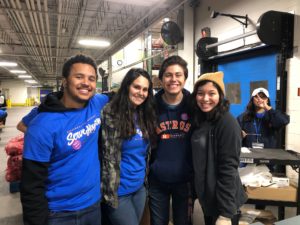 As you make your way around campus, you will see the hustle and bustle of life at HBU.  However, the "buzz" in the library is unlike anywhere else…and not just because it is the most caffeinated area on the grounds.  Located on the first floor of Moody Library, the Academic Success Center (ASC) is a dedicated student-centered space which bridges the gap between the student experience and the classroom.
When touring the campus, there is no other space that makes a parent's eyes twinkle like the ASC.  Behind its doors, students work with peers on assignments and projects; there are workshops, academic coaching sessions, and test reviews.  Even though the ASC is always full, the energy in the space does not stem from all of the ha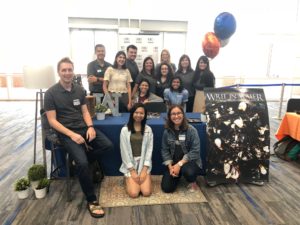 ppenings, rather it is rooted in the fact that students feel safe here.
The ASC's Assistant Director, Tristan Fernandez-Cablay, is at the epicenter of this energy.  As a former student-athlete and a first generation college student, Tristan understands the challenges of the student experience. Tenderhearted and compassionate, she prioritizes connecting with each student that walks through the ASC doors. The Lord opened her path to higher education in a very unique way.  Tristan attended a small liberal arts university very similar to HBU.  A Southern California native, she wanted to stay close to home, play
softball, and work while attending college.  The road to academics was not an easy one.  As she began experiencing college life and learning more about herself, she fell in love with people and making connections.  She quickly changed her major from the sciences to sociology.  While earning her undergraduate degree, she was greatly impacted by two female professors.
These two women became mentors and provided Tristan with a new goal of one day working in higher education.  Tristan knew that this choice would require a graduate degree.  As a first generation college student, her family's dream for her was to earn a Bachelor's degree – but her eyes were set higher and she reached to pursue a new goal.  After graduating college,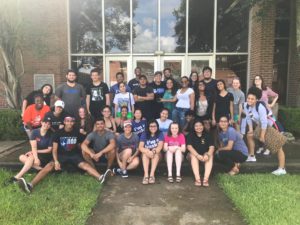 Tristan moved with her husband overseas.  She continued on to her graduate studies and earned a Master's in Human Services. She began teaching students in the Humanities and focused on strategies for college success.   After several years, she decided to finally pursue the doctorate that had been in the back of her mind since her days as an undergraduate.
HCU has provided her with the opportunity to connect with students and provide them the same encouragement and support that she received.  Tristan is a firm believer in positive psychology and a growth mindset.  She encourages students to explore and work hard.  She supports them.  Cheers for them.  Greives with them.  Tristan creates a space in the ASC that students can call their own.  It is their safe place.  Indeed, the ASC is a space unlike any other at HCU thanks to the kindness and care that Tristan puts forth makes it so.