First-Year Applicants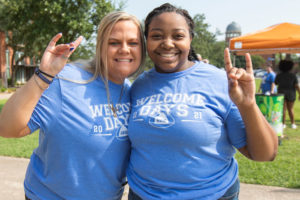 Welcome, Husky! As a first-year student, you may have questions about how to apply for financial aid and what type of aid options are available. Below is some helpful information about merit awards, financial aid appointments, and additional aid availability. Please reach out to the Office of Admissions with any unanswered questions about your financial aid.
What are Merit Awards?
Every undergraduate first-year student (freshman and transfer) is automatically considered for a merit award*. These awards are based upon a student's academic performance in high school. If offered, the merit award amount should be included in your admission letter confirming your acceptance to the university. If you did not receive a merit award offer in your admission letter, please reach out to the admissions office to see if you are eligible for an award.
Freshmen Merit Awards
Transfer Merit Awards
How to Schedule Your Financial Aid Appointment
Once you have been admitted to HCU and have submitted your enrollment deposit, you will then be able to schedule a financial aid appointment with HCU Admissions. This appointment will provide you with an overview of your estimated cost to attend the university, taking into consideration your merit award amount and whether you will be living on or off campus. You should receive an email from HCU Admissions when appointments become available. To schedule a financial aid appointment, reach out to your admissions counselor.
Contact Your Admissions CounselorSchedule Your Financial Aid Appointment
How to Apply for Additional Financial Aid
In order to be considered for additional financial aid, you must submit a Free Application for Federal Student Aid (FAFSA) through StudentAid.gov and forward your application to HCU by including our school code: 003576. You will then be contacted by the Office of Financial Aid when your application is received and reviewed.
Other Helpful Resources
Glossary of Financial Aid Terms
Student Rights and Responsibilities
Frequently Asked Questions
*Merit Awards are not extended to HCU Pampell Online students.