Estimated Cost for International Students
Houston Christian University seeks to empower all students through our engaging learning environment which is why HCU offers the same tuition to all students, including international students. Unlike Texas public universities, there is no out-of-state or non-resident tuition here.
HCU also ensures that all undergraduate students, including our international students, qualify for the same merit scholarships. International students may be eligible to qualify for these additional scholarships, too. 
Find Scholarship Information Here
For more information or to set up an appointment, email goglobal@HBU.edu.
Texas University Tuition Comparison
| | | | | |
| --- | --- | --- | --- | --- |
| University | Houston Christian University | Texas Private Universities | Texas Public Universities (out-of-state tuition) | Texas Community Colleges |
| Avg. 21-22 tuition per semester | $17,765 | $22,580 |  $13,638 | $10,077 |
| Avg. after scholarships | $8,750* | $15,484** | $12,368† | $9,077‡ |
*Scholarship amounts shown are figured for a student with a 3.0 GPA, a score of 21 on the ACT, or 1061 on the SAT.  There are many variables that affect scholarship amounts and the amounts shown are subject to change. **Avg. tuition and scholarships for Baylor University, University of Mary-Hardin Baylor, Abilene Christian University and Texas Christian University. † Avg. tuition and scholarships for the University of Houston, Sam Houston State University,  Texas A&M University – Kingsville and Texas State University. Scholarships for Texas public universities vary depending on the program of study and test scores. ‡ Avg. tuition and scholarships for Houston Community College, Lone Star College and San Jacinto College.
More Information
International students will need to pay a fee of $75 per semester to cover governmental fees. See links below for a further breakdown of cost of attendance and financial aid.
86% of HCU's international students receive scholarships.
Undergraduate Tuition and Fees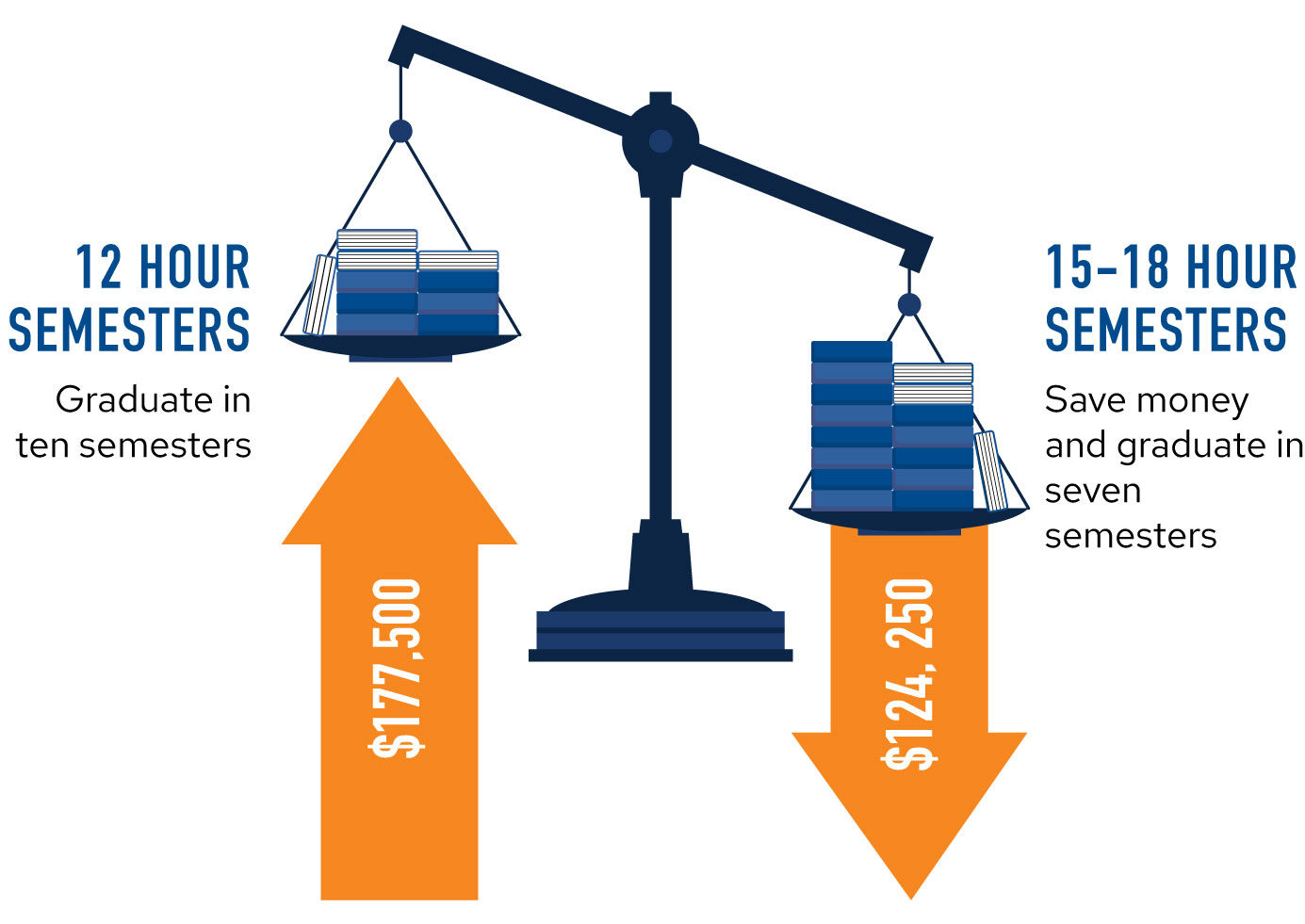 SAVE UP TO $53,250**
ON THE COST OF YOUR EDUCATION
HCU uses a block tuition model.  Undergraduate students will be charged a flat rate for tuition that will be the same whether enrolled in 12, 13, 14, 15, 16, 17, or 18 credit hours in the fall and spring semesters. Students who take 15-18 hours per semester save tens of thousands of dollars on the entire cost of their bachelor's degree programs!
**Based on a typical undergraduate student taking 15-18 hours per semester to graduate with a 120 hour bachelor's degree in seven semesters as compared to a student taking the full-time minimum course load of 12 hours per semester. This savings estimate excludes room, board, books, supplies, transportation and personal costs.