GO (Get Oriented) for 2023
GO is HCU's official free and required orientation for new incoming freshmen and transfer students. Freshmen GO (Get Oriented) is an opportunity for new students to learn more about Houston Christian University and to get acquainted with the many programs and services we offer to students.
Upcoming GO Event Schedule

Freshman Orientation
June 10-11, 2024
June 13-14, 2024
June 17-18, 2024
June 20-21, 2024
Mini GO
July 10, 2024
July 24, 2024
August 7, 2024
International Students
International Orientation
August 25, 2023
August 16, 2024
Register for International Orientation
Virtual GO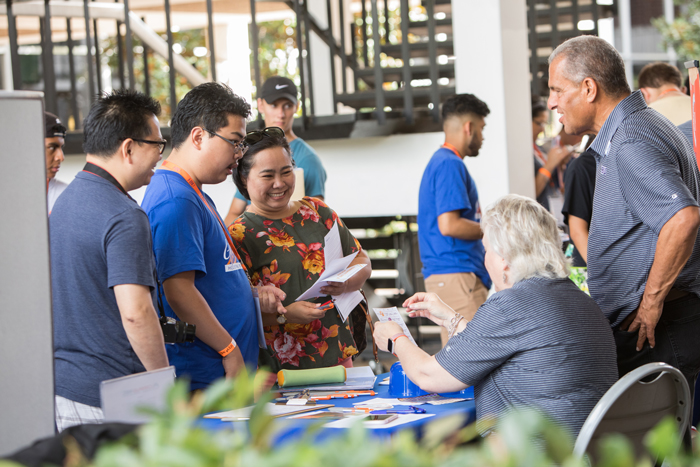 Mini GO

Mini GO orientation sessions take place after the June Summer GO sessions. Mini GO is only for new Freshmen and Transfer students attending HCU for Fall 2023. These sessions allow new Huskies and their families to hear from all departments across campus including advising and financial aid. Download Mini GO Schedule.
Join us to get your class schedule and prepare for life before school begins this fall!
Mini GO  III – Wednesday, August 9, 2023
Helpful Resources for Orientation
How to Prepare for Class Registration
About Advising & Class Registration
Registration
Freshmen:  During registration,  you will meet with an academic advisor and register for classes.  An academic advisor will review all of the AP and Dual Credit information you have submitted.  Please provide all dual credit and AP course work or credit for the most accurate schedule.
Transfers: Please note that while you are not required to attend Transfer GO,  it is highly encouraged for you to attend one of our Pre-Registration sessions. 
NOTE: Transfer students selected for our Fall 2023 nursing cohort will be required to attend a nursing orientation this summer in addition to Pre-Registration.
Recruited Athletes: You will have the chance to meet with our Director of Academics, Dr. Jazmine Calhoun, to ensure your athletic and academic schedules align.
---
Helpful Resources
Begin Your Pre-Work

Preparing for your Pre-Registration session has never been easier! We have outlined all of the steps you need to take to prepare for your advising and class registration here at HCU:
ALEKS Math Placement: It is crucial that you take the ALEKS exam (HCU's math placement exam) prior to pre-registration. You are allowed to take the ALEKS once. The exam is accessible via Huskynet (found in the student portal**) and can be taken at home.
Dual Credit & College Transcripts: We know retrieving transcripts is tough, which is why we accept unofficial dual credit transcripts for use in your class registration. This record will allow your advisor to recommend the best class schedule for you.
English Placement Examination: Students who do not meet the requirements for English Placement will be required to take our placement Accuplacer exam. See the Testing Page for more information.
Confirm Your Major: Don't forget to confirm your major! If you have decided to change your major, please update the Admissions office by using this form: HC.edu/update.
---
Helpful Tools
**Accessing HuskyNet via the student portal:  You will need your HCU One login to access both the student portal and HuskyNet.