Applying for Financial Aid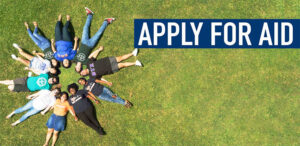 At HCU, financial aid is awarded on a first come, first served basis as funding permits. The amount of the student's award is based on academic merit, financial need and annual limits as specified by program limits. Use the Federal Student Aid Estimator to see how much aid you could receive. Financial need is determined by completing the Free Application for Federal Student Aid (FAFSA) annually.
Step 1: Apply to Houston Christian University
All financial aid applicants must first apply for admission to Houston Christian University. You can submit your application online.
Step 2: Submit Your FAFSA Application
March 1 is the preferred annual deadline to submit the Free Application for Federal Student Aid (FAFSA) to the federal processor. List HCU's school code number 003576 on your FAFSA. Electronic FAFSA filers must either print, sign, and mail the FAFSA signature page to the processor or acquire a FSA ID to sign the application electronically. You may acquire a FSA ID by going to the Federal Student Aid FSA ID Application and completing the online application.
Note: FAFSA will be delayed until December.
Step 3: View/Accept Financial Aid Award(s)
Once we receive your FAFSA application, your financial aid award package will be available to view through your HuskyNet account. Follow these steps to accept or decline all or some of your financial aid award(s).
Step 4: Submit All Requested Documents via HC.StudentForms.com
All requested documents must be submitted via HC.StudentForms.com to complete your financial offered awards. Documents must be received by March 15th to receive priority funding. You will be notified via HCU email about the documents needed to complete your aid application and other documents requested.
Some students are selected for Financial Aid Verification. This is a federal requirement for institutions and aid cannot be disbursed until verification is complete. Learn more about verification and how to complete this requirement if selected.
All Texas Resident Students must complete the TX Residency Questionnaire in HC.StudentForms.com. If you do not see the form, email our office.