By Cassie Sorrell, HBU Campus Recreation Coordinator
The Odyssey is HBU Campus Recreation's outdoor adventure trip created specifically for incoming freshmen as an early opportunity for them to begin their journey at Houston Baptist University. For the past three years, Campus Rec. has partnered with Camp Eagle, which is located in the heart of the beautiful Texas Hill Country. Those attending participate in hiking, zip-lining, cave exploring and other outdoor activities. The incoming freshmen have the opportunity to interact with current HBU student leaders and HBU staff through outdoor activities and various group discussions focused on starting their collegiate journey. Topics cover how to create a well-balanced HBU college experience and discussions about what kind of legacy they want to leave behind.
Josh Dunn, director of Campus Recreation, tells the students, "The Odyssey and college are like any journey. It is what you make it. Minimal investment equals minimal return. Maximum investment means maximum return." The open discussions and activities focus on the academic, social, spiritual and wellness aspects of college. Vanessa Cuellar, an incoming freshman, stated, "The knowledge I received and the connections I made have given me the feelings of readiness and excitement!"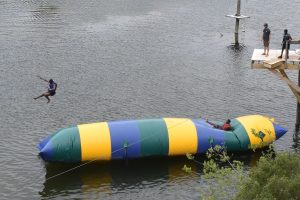 The overall goal of The Odyssey is to create a safe environment for learning about spiritual belief and discipline and the appreciation of wellness. Also, students build community that will transfer directly to the University, the Houston community, their home life and to the professional environment.
The outdoor adventure experience heightens attendees' awareness of God's creation, which includes, not only nature, but also individual wellness. The Odyssey physically challenges individuals and groups through hiking, ropes courses, cave exploring and other physical demands, pushing students to their limits and creating life lessons. Ariana Alexander, a TRIO Student Success coach, hopes that "when a class becomes challenging, students will reflect on the perseverance they showed in zip-lining or scaling a mountainside. When students feel isolated, they will recall the teamwork, compassion and listening skills acquired from scrambling through a dark maze. I hope that they remember God's provision and brightness is enough to blot out any darkness. Resiliency, grit and grace – these are the lessons of The Odyssey."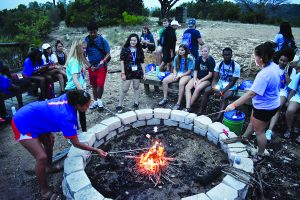 Participation in these physical activities also promotes a positive mental and emotional awareness of, not only wellness, but also the need for community support. Odyssey student leader, Joreim Perales, who also attended as a freshman, said, "I was anxious to try the zip line, but with the encouragement of those around me and by placing my trust in the Lord, I was able to take that step off the platform. I was able to reflect on life and how sometimes we might be afraid of what is to come, but we have to place our trust in Him and He will take care of our fears and anxieties." The outdoor adventure changes our perspectives through expanding our comfort zones, developing leaders, creating lasting bonds and providing a unique wellness experience. Incoming freshman, Brianna Romero, said, "The Odyssey pushed me beyond my comfort zone in so many ways. I feel extremely blessed to have had this opportunity to learn from these amazing student mentors, staff and other freshmen."
The outdoor experience also poses a unique way to learn and develop one's relationship with God and others, focusing on stewardship, service and leadership, as well as spiritual discipline.  In Colossians, we are reminded that Jesus is the One who made all of Creation, so it should be of no surprise that His handiwork creates an environment that elicits awe for God. With The Odyssey retreat being in the Texas Hill Country, it allows us to examine our relationship with Christ in the silence and solitude of the outdoors. The serene environment creates the opportunity to reflect on our personal relationship with Him and clearly hear God's voice and guidance on our journey.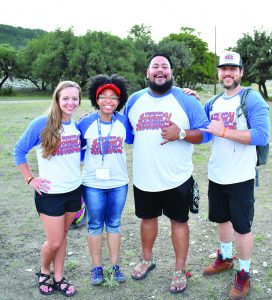 Cassie Sorrell, Campus Recreation coordinator reflects, "This year, as we were up at the windmill, the highest point at the camp, looking up at the beautiful stars and worshiping Christ together, I was overcome with emotion. All you could hear were the crickets chirping, frogs croaking and the students' voices praising God and crying out to Him. In that moment, I was filled with peace, pure joy and absolute gratitude that He has blessed me with the opportunity to work with these amazing people and create events like The Odyssey. It was a moment on my personal journey I will never forget."
The incoming freshmen are provided with an opportunity to build community and relationships with current HBU student leaders and HBU staff.  They,  through discussions of various topics, are able to lay the foundations to develop mentoring and discipling relationships. The Odyssey is also a wonderful opportunity for student leaders to flourish and use their passion for serving others. Diana Cardenas, who has now attended The Odyssey three times, said that she came in as a "scared and lonely freshman," but now, she states, "I can proudly say that after all the love and support I received from my fellow peers and the HBU staff members, there is nothing but absolute joy in my heart and a passion to serve others as I have been served. I finally learned to let go and let God."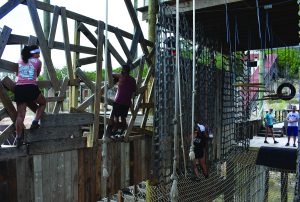 Each leader goes through an application and interview process; once selected, they receive specific leadership training just for The Odyssey. The outdoor adventure activities naturally create open communication, trust, encouragement and genuine connections between all those who attend. Freshman Sebastian Calderon said, "The experience I had at The Odyssey was life-changing. I had so much fear regarding college and my relationship with the Lord. Over these several days, the encouragement from the leaders and the beauty of God's creation erased any trace of those negative thoughts. This experience replaced those fears with happiness and confidence that Jesus Christ is my Lord and Savior. I will always remember those four days at The Odyssey as one of the best experiences of my life."
The HBU staff collectively agree that their prayer for those who attend is that the overall experience, relationships and community built through The Odyssey will allow the students to grow in their relationships with Christ, and that they gain a connection and sense of belonging to the University that will last a lifetime.