HBU has had some solid shortstops in its history, but if there had ever been any serious debate about which one was the best defensively, Tyler Depreta-Johnson put that argument to bed when he was awarded the ABCA/Rawlings NCAA Division I Gold Glove Award as the best defensive shortstop in the nation for the 2018 baseball season.
The ABCA/Rawlings NCAA Division I Gold Glove Awards recognize the best defensive player at each position and are chosen by the American Baseball Coaches Association All-America Committee. The award is the second in HBU history, as first baseman Michael Crabtree earned the honor in the NAIA division in 2007; it is the first in Southland Conference history.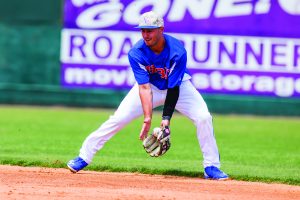 Depreta-Johnson was named the shortstop on the Southland Conference All-Defensive Team for the second-straight year, was a third-team, all-conference selection and a member of the Academic All-Southland Conference Team. The Rancho Santa Margarita, California native committed only one error all season, tied for seventh in the nation with 283 total chances and finished the season without an error in his last 232 chances — a span of 48 games. Depreta-Johnson turned 32 double plays and did not commit an error in conference play in 149 chances.
"Tyler joins good company in Michael Crabtree, as the only two players in HBU history to win the Gold Glove," HBU Head Coach Jared Moon said. "This is a great honor for Tyler and great for our program. With him getting drafted, this is just icing on the cake and proves his worthiness of being picked.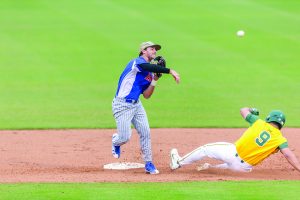 "When we signed him out of Golden West, the coaches said, 'Don't worry about what he does offensively, just put him at shortstop and let him do his thing.' That's exactly what we did, and regardless of what he did at the plate, most of his RBIs were in his glove. He saved us so many times from a big inning possibly developing. Then, in the conference tournament, he made so many big plays on such a big stage. I told him at the end of the season that he is by far the best shortstop I have ever seen in my coaching career."
Offensively, Depreta-Johnson hit .321 with three home runs, seven doubles, 20 RBIs and scored 17 runs in conference play. He hit .253 with five home runs, 12 doubles, 30 RBIs and 33 runs overall. He recorded a seven-game hitting streak from May 1-13 and finished the year with 16 multiple-hit and seven multi-RBI efforts. All three of his three-hit games came in conference play, going 3-for-4 with a home run and three RBIs against Nicholls on March 16, 3-for-5 with an RBI and a run against Abilene Christian on April 14, and 3-for-4 with a double and three RBIs against Incarnate Word on April 20.
Depreta-Johnson was selected in the 35th round with the 1,049th pick by the Texas Rangers on the final day of the MLB Draft in June and is played out the rest of the season with the Spokane Indians, the Rangers' short-season A affiliate in the Northwest League.
ABCA/Rawlings NCAA Division I Gold Glove Team
C Shea Langaliers – Baylor
1B Jake Vieth – Gonzaga
2B Michael Massey – Illinois
3B Brandon Perez – Southern California
SS Tyler Depreta-Johnson - HBU
OF Brandon Lockridge – Troy
OF Jake Magnum – Mississippi State
OF Zach Watson – Louisiana State
P Joe DeMers – Washington