Bands at HCU
Marching Band
The Husky Marching Band performs at all home football games, and is under the direction of Dr. Matthew Lamm. As one of the many spirit groups on the HCU campus, they perform at all Husky Howls, the on-campus pep rallies held the night before each home football game. The Husky Marching Band also performs at parades around the Houston area, performing different styles of music for each event.
The members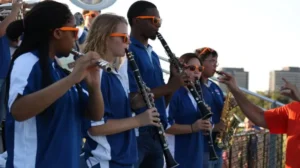 of the Husky Marching Band are devoted to giving support for all HCU athletics, serving as ambassadors for HCU, and delivering the highest quality of musical performance. The Husky Marching Band is made up of music majors, music minors and non-music majors. Their rehearsals are held in the fall semester on Monday, Wednesday, and Friday from 2 p.m. to 3:50 p.m.
Symphonic Band
The Symphonic Band performs compositions and arrangements of standard symphonic literature for all levels of concert band, engaging students with new musical experiences and enabling them to collaborate with their peers. The Symphonic Band performs two concerts during the spring semester on the HCU campus, and rehearses on Monday, Wednesday, and Friday from 2 p.m. to 3:50 p.m.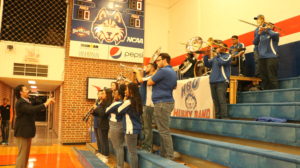 Pep Band
The Pep Band performs at all women's and men's
basketball home games, as well as NCAA
tournament games. Enrollment in Symphonic
Band is required for all Pep Band members.
HCU bands are open to all students, and scholarships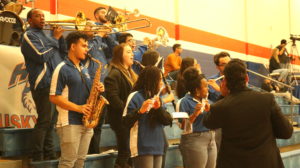 are available based on talent and departmental need,
and upon successful completion of a scholarship audition.
Husky Symphonic Band Concert Recording
Friday, May 7, 2021, 2:30-6:30 p.m.
Dunham Theater
Donate now to reserve your copy of the recording, HCU Symphonic Band – Live in Concert from Dunham Theater.
Contact:
Dr. Matthew Lamm
Director of Bands