HCU Choral Ensembles
All are welcome! From the novice to the advanced singer of any major, we have a place for you in either our University Singers or Schola Cantorum. Not only will you perform great and exciting music, you will have the opportunity to improve your singing technique and make new friendships along the way.
Choral students often receive opportunities to perform throughout Houston and on tour in the US and abroad. They also enjoy the opportunity to work with outstanding conductors and composers such as Alice Parker, Morten Lauridsen and J.A.C. Redford, all of whom have visited campus. The choirs often collaborate with other local performing organizations such as the Houston Choral Society and the Houston Civic Symphony.
The HCU choirs are known for their artistry and performances of a wide range of repertoire. Recently, the ensembles performed several major works with orchestra, including selections from G. F. Handel's Messiah, Francis Poulenc's Gloria, John Rutter's Psalmfest, and Dan Forrest's Requiem for the Living. Works by contemporary composers have been featured, such as those by Morten Lauridsen, Ola Gjeilo, Stacey V. Gibbs, Daniel Gawthrop, and Judith Shatin.

Join Us!
University S
ingers
MUSI 1113 – Tu/Th 2:00-3:15 p.m.
No audition required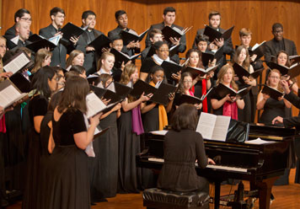 HCU's largest chorus, University Singers, is open to all students. There is no audition to join. As a member of the choir, you will grow in your understanding of basic vocal techniques, music theory, sight reading, and choral repertoire. All you need to do is register for the course and show up on the first day. University Singers performs on their own and in collaboration with Schola Cantorum, frequently representing HCU in church services, concerts, and tours.
Schola Cantorum
MUSI 2111 – MWF 2:00-3:30 p.m.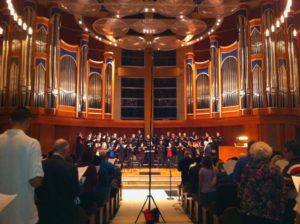 Audition required
HCU's "flagship" chorus, Schola Cantorum, is an auditioned ensemble that performs the most sophisticated and advanced choral repertoire. To be selected as a member of Schola Cantorum, students must demonstrate expertise in sight-singing, excellence in vocal development, and a deep commitment to the artistry of the choir. Schola Cantorum performs on their own and in collaboration with University Singers, frequently representing HCU in church services, concerts, and tours.
Fall 2023

Friday, October 6 at 7:30 p.m.

HCU Schola Cantorum and University Singers

Music by J.S. Bach, W.A. Mozart, Eric Whitacre, Dominick DiOrio, Moses Hogan, and more.

Thursday, November 9 at 7:00 p.m.

High School Choral Invitational Concert

Featuring choirs from Pearland High School, Ridgepoint High School, Strake Jesuit and St. Agnes High Schools

HCU Schola Cantorum will also appear on the program

Friday, December 1 at 7:30 p.m.

HCU Schola Cantorum and University Singers in collaboration with the Houston Civic Symphony

Wednesday, December 6 at 11:00 a.m.

HCU Schola Cantorum and University Singers

Spring 2024

Friday, February 23 at 7:30 p.m.
Choral Concert
HCU Schola Cantorum and University Singers
Belin Chapel
Free admission

Tuesday, April 16 at 7:30 p.m.
Choral Concert
HCU Schola Cantorum and University Singers
Belin Chapel
Free admission
Experience Our Choir
"Alleluia" by Ola Gjeilo
World Premiere by the HCU Choirs and Houston Choral Society
"Ave Maria" by Ola Gjeilo
World Premiere by the HCU Choirs and Houston Choral Society