Contemporary Art Gallery | Art Galleries in Houston
The Contemporary Art Gallery is located in the University Academic Center on the Houston Christian University campus. This state-of-the-art exhibition space was completed in the summer of 2012, and its inaugural exhibition, "Spontaneous Memorial: A Commemorative Installation" by Frank McEntire, honored the victims of 9/11.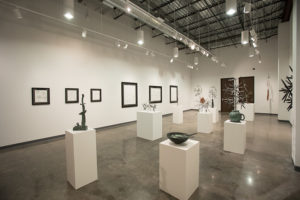 The mission of the Contemporary Art Gallery is to encourage contemporary artists to challenge and educate public perceptions of civic and social ideas and aesthetic and spiritual consciousness. The gallery functions as a teaching laboratory, a venue for tours and lectures by art department faculty and visiting artists, and periodically, its exhibitions are shown at other exhibition venues.
---
The Contemporary Art Gallery is open from 11 a.m. to 4 p.m., on Tuesday, Wednesday, and Thursday (holidays not included). Admission is free and open to the public. Private tours are also available by contacting Carlos Canul, Fine Arts Museum Director.