HCU Choir Camp
Registration for 2023 All-State Choir Camp
July 5-8, 2023
Learn your TMEA large-school choir repertoire quickly and accurately
9th-12th grades for upcoming 2023-2024 school year
"Day-Camp" schedule— allows freedom for work or evening activities
Seniors have the opportunity to receive a private voice lesson
Directors from outstanding area choral programs serve as Clinicians and Accompanists
Dr. Kevin Klotz
Camp Director
Director of Choral Activities at HCU
"Attending the HCU Choir Camp has put me in a great position for making the All-State choir."  John Silva
Choir Camp Schedule
Wednesday – July 5th
10:00 a.m. – 10:30 a.m. Campers check-in (McNair Hall)
10:30 a.m. Orientation (Dunham Theater)
10:45 a.m. Warm-Up and full rehearsal (Dunham Theater)
12:00 p.m. Campus tour (conducted by Section Leaders)
12:30 p.m. Lunch in Baugh Student Center
1:15 p.m. – 2:15 p.m. Section rehearsals (see below for room locations)
2:30 p.m. – 3:30 p.m. Section rehearsals (see below for room locations)
3:45 p.m. – 4:30 p.m. Full rehearsal (Dunham Theater) and dismissal

Thursday – July 6th
9:00 a.m. Campers check-in (McNair Hall)
9:10 a.m. – 9:20 a.m. Full Choral Warm-Up (Dunham Theater)
9:30 a.m. – 10:45 a.m. Section rehearsals (see below for room locations)
11:00 a.m. – 12:15 p.m. Full rehearsal (Dunham Theater)
12:30 p.m. Lunch in Baugh Student Center
1:15 p.m. – 2:15 p.m. Section rehearsals (see below for room locations)
2:30 p.m. – 3:30 p.m. Section rehearsals (see below for room locations)
3:45 p.m. – 4:30 p.m. Full rehearsal (Dunham Theater) and dismissal
Friday – July 7th
9:00 a.m. Campers check-in (McNair Hall)
9:10 a.m. – 9:20 a.m. Full Choral Warm-Up (Dunham Theater)
9:30 a.m. – 10:45 a.m. Section rehearsals (see below for room locations)
11:00 a.m. – 12:15 p.m. Full rehearsal (Dunham Theater)
12:30 p.m. Lunch in Baugh Student Center
1:15 p.m. – 2:00 p.m. Section rehearsals (see below for room locations)
2:15 p.m. – 3:15 p.m. S/A & T/B rehearsals (S/A: Dunham; T/B: Dillon II)
3:30 p.m. – 4:30 p.m. Full rehearsal (Dunham Theater) and dismissal
Saturday – July 8th
9:00 a.m. Campers check-in (McNair Hall)
9:10 a.m. – 9:20 a.m. Full Choral Warm-Up (Dunham Theater)
9:30 a.m. – 10:45 a.m. Section rehearsals (see below for room locations)
11:00 a.m. – 12:15 p.m. Full rehearsal (Dunham Theater)
12:30 p.m. Lunch in Baugh Student Center
1:15 p.m. – 2:00 p.m. Section rehearsals (see below for room locations)
2:15 p.m. – 3:15 p.m. S/A & T/B rehearsals (S/A: Dunham; T/B: Dillon II)
3:30 p.m. – 4:30 p.m. Dress rehearsal (Dunham Theater)
5:00 p.m. Concert (T-shirt/Dunham Theater) – family invited!
Sectional Room Assignments:
Soprano I & II– Dunham Theater
Alto I & II – Belin Chapel (use Brown 257 on Wednesday)
Tenor I & II – Green Room
Bass I & II – Dillon II (use Brown 258 on Wednesday)
Private Voice Lessons for Seniors
If you are a senior and would like to have a free 30-minute voice lesson, please see your section leader Tuesday for an appointment time.
The registration fee of $150.00 includes:
TMEA Large School music packet
Lunch all 4 days
T-shirt
$75.00 – 2021 All-State Choir Members – June 1, 2022 Deadline to receive this discount
$200.00 after June 1, 2022 – Requested T-shirt size is not guaranteed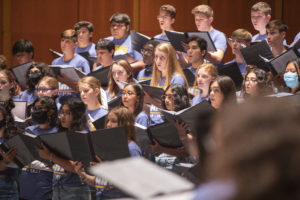 No registration refunds after May 1, 2022
Send questions to music@hbu.edu
---
THE HCU DEPARTMENT OF MUSIC
The curricula in music at Houston Christian University are designed to provide the specialization and depth of study necessary for the Performance Major (voice & keyboard) and Music Education Major. The Department of Music provides an artistic environment that offers many professional experiences to students in their areas of specialization. A low student-faculty ratio is maintained, which allows for close supervision by a professional. The members of the faculty are active in performance and research, and serve in a leadership capacity for a number of metropolitan arts ensembles and organizations. The training and experience of the faculty are international in scope, and the highest standards of teaching are maintained.
Students are admitted to the Department of Music by audition only. Grants-in Aid, College Development Grants, and Choral Scholarship recommendations are made upon the advice of the auditions committee. All HCU students are encouraged to actively participate in a music school ensemble regardless of major.